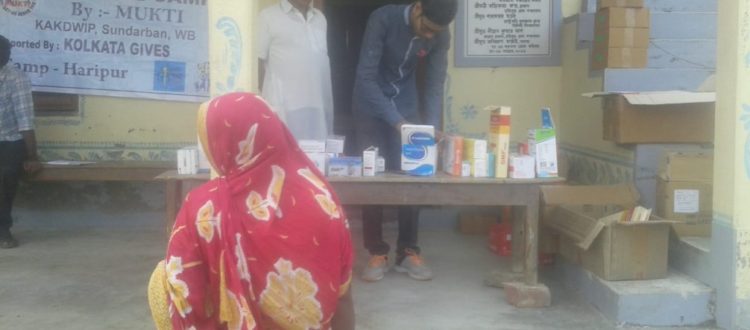 Day 3: Medical Camp at Binapani Club, Haripur by Mukti
Life at many of the Sunderban villages, affected by Cyclone Bulbul, came to a standstill post the thundering storm and rain. Along with adverse effect on lifestyle and livelihood of these families, it was noted that many individuals were suffering from medical ailments due to the lack of proper medical treatments.
In order to curb such issues, Mukti came forward and organised a series of medical camps in some of the villages of Kakdwip. The plan of action is to host such camps over a period of 15 days, with an estimate of around 3500 patients attending such camps.
Day 3 of Mukti's medical camps took place in Binapani Club in Haripur village, Namkhana Block where 246 residents from the village visited the doctors. One of the major concerns noted by the doctors in this village was the lack of proper sanitation, giving rise to stomach ailments and skin diseases. The Mukti volunteers spoke about the need for proper sanitation measures and instructed the residents on how to ensure that certain health standards were met.
Among the patients, a large number of children were in attendance. With the winter months approaching, these children and some elderly members, were diagnosed with cases of common cold and fever. Patients were provided with medication and other medical supplies to help them get back to the pink of health.
We are still a long way to go in regards to helping these families get back on their feet. We would be grateful if you could reach out and help us, help them!
Donate Now!
Browse the photos click here