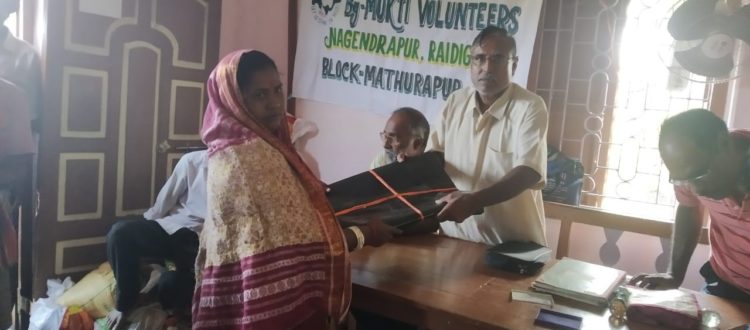 Cyclone Bulbul Relief Support at Nagendrapur, Raidighi
MUKTI continues with the determination of restoration to the devastated people of Sunderban since 10th November 2019. Nagendrapur, Kakdwip and Patharpratima remains to be worst affected by Cyclone Bulbul's landfall. In Kakdwip, 3 fishermen have died due to boat capsize during the cyclone. The full trail of destruction continues to grow everyday as many people have become homeless, hundreds of trees are uprooted, roads are blocked, power lines are damaged, crops and livestocks are destroyed.
Mukti's relentless efforts by staffs and volunteers in distributing food, clothes, blankets, mosquito nets are reaching the farthest part of Sunderban. On 13th November MUKTI volunteers distributed these needed items among 81 families in Ngendrapur. These families are most affected the devastating cyclone Bulbul. Mukti has also adopted 4 families in Nagendrapur and assured help of all kinds for a month from the disaster.
We appeal to you to support our response to Cyclone Bulbul and help the families affected. Your contributions would support the rehabilitation of poor and vulnerable communities whose livelihoods and property have suffered damage due to the cyclone.
We urge for your help. If you wish to donate, please visit the link:
Donate Now!
Check out the Photo Gallery