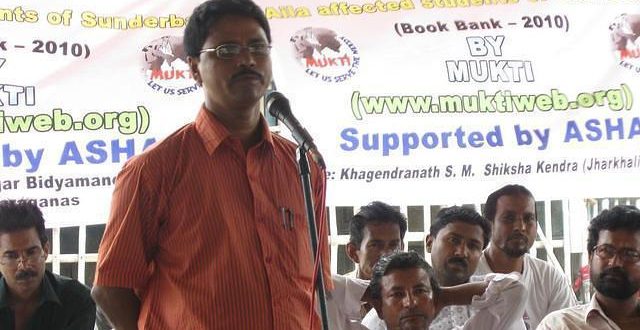 Cyclone Aila: Relief and Rehabilitation – Post Aila Activities!
Desalinate or Sweet Water Projects
MUKTI started their rehabilitation program for restoration of local Water bodies to provide Sweet Water among Aila victims and restricting spreading diseases. MUKTI cleaned nearly 12 ponds in G-plot area having 7 villages and 10 big community ponds in K Plot GP of Pathar Pratima Block.
Medical Camps
MUKTI arranged few medical camps in different places to help flood affected people to fight with different illness. They treated around 450-500 patients in Kumirmari, 200 patients in Gosaba Block 2 (Chowrasta), 300 patients in Haripur, Madanganj and Chandanpiri under Namkhana Block. All patients were provided proper treatment as well as medical counseling. Most of the people were suffering from stomach upset, dysentery, skin disease and other water borne diseases. ORS was also distributed among patients.
MUKTI Educational Rehabilitation Program (MERP)
MUKTI provided educational materials like books, white paper, pen, school bag etc to Aila affected students who have lost their house and all belongings and not able to continue their studies. 500 students in each GP from class V to X got books from MUKTI. Besides this MUKTI distributed school books for all classes from 5 to 12 in 3 schools and educational materials to 167 students in Dakhinkashi Jana High School.
Paddy Seedling to Support Agriculture
MUKTI team cultivated Paddy Seedling in Kumrapara, Nandakumarpara, Kakandighi and Nagendrapur and handed it over to more than 100 farmers, who were helpless as they could not germinate seeds as acres of land were submerged under saline water. MUKTI also joined hands with SUNDERBAN DEVELOPMENT BOARD (SDB) and distributed paddy seedlings to 180 bigha of land in extra remote area like Basanti.
Sustainable Agricultural Project
MUKTI and BTS jointly finished a pilot Sustainable Agricultural project with the help of AID. They helped farmers to adopt agricultural practices that are economically viable, environmentally sound. They were trained to (a) Prepare seed bed: how to raise crops in their home gardens, containers and community fields. (b) Prepare Bio-Inputs like Amrit, Fish, Coconut and Herbal Tonic. These microbial rich bio solutions are the main component of soil reclamation process. It will drastically reduce the cost of cultivation and improve the soil fertility. Practical demonstrations are given to the farmers.
Main area of work was Kultali, Patharpratima and Mathurapur CD Block. Each farmer is supplied 50gm Bin, 100gm Palon, 25gm Mula, 12.5 gm Piring and 12.5 grm Kolmi to start their work. Women self help groups already functioning in the villages. MUKTI is encouraging them for a large scale preparation of bio inputs and selling to the villagers.