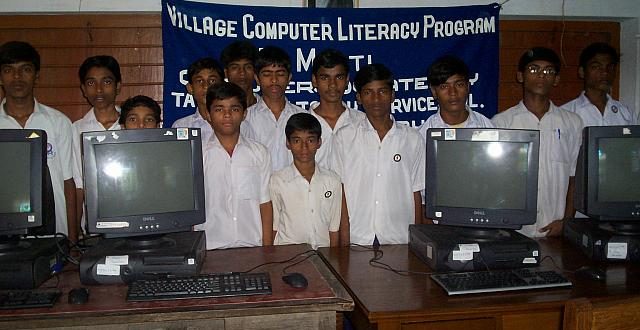 Village Computer Literacy Program (VCLP) Report
MUKTI is a charitable and socio-economic development organization established in 2003 and which strives to improve for the social and economic condition of the less and underprivileged section of the society. In 2009, MUKTI designed a grand project called 'Village Computer Literacy Program' (VCLP) with the sole noble intention of imparting free and needed computer education to the poor and interested students of the Sunderban area. The program was imparted with the help of TCS (Tata Consultancy Services Ltd.) which donated total 19 computers to MUKTI (www.muktiweb.org). With the much needed input, MUKTI went on to set-up four different labs; one within the Kashinagar High School situated in Kashinagar near Kakdwip in South 24 Parganas district; one at Guptipara situated in the Hooghly district of West Bengal; one at Bankura facilitated by Mukti Bankura chapter and the most recent one at a Coaching centre at Gobindapur village, near Kakdwip.
The Kashinagar High School is a mid to large size school comprising of approximately 750 students. The students are studious, meritorious but unfortunately do not possess the liberty of even having a computer in reality in their lives. Four computers from TCS were donated to this school which set-up a computer room. The teachings were imparted by computer literate teachers from the school, trained initially by two MUKTI volunteers who even helped with the set-up of the computer room. Not only the students but even their parents were excited. The classes are organized twice a week. Since learning computers is a huge subject in itself and that these students were relatively unknown to this subject, the training program was primarily divided into two parts. The first was to impart Practical knowledge (Microsoft Office software packages like Word, Excel, PowerPoint, and MS Paint) and the second part was to impart Theoretical knowledge (basics of computer system, its architecture, numbering system etc.). The main emphasis was for students to have realized the knowledge of computer system and its application which in turn would help them in their higher studies. Keeping in mind the limitations in number of computers and training personnel (1 teacher and 4 computers), the computer classes were not made compulsory to the students. Only interested computer education seekers between classes V to X were entertained. MUKTI received wide support from the school headmaster, Mr. Shyamal Samanta, who has been very keen and enthusiastic of the project. He is also happy with the progress of his students' education in this subject. His idea aligns with ours in the sense that if we can provide and arrange more computers in the future, more and more students can facilitate from the program and make a better living or higher studies through it. Talking about students, a classic example of one of the brightest is Ms. Swagata Mandal of class VI. She has already started showing confidence not only in operating computers on her own but also realizes that her dream to become a doctor is not totally unrealistic and it will come true through vigorous hard work. Her smiling photograph along with the other photographs of the school, instructor and curious students and provided below this document.
Even though West Bengal Examination Board does not make it compulsory to conduct examinations in this subject, MUKTI volunteers routinely made surprise performance checks of the students through examination, informal queries and questionnaire to random students. Not to our amazement and to our pleasure, MUKTI evaluation of the VCLP program at Kashinagar High School was found to be very progressive. One of their main inputs was that it is indeed true that the students were getting well acquainted with the subject which was not even heard of by their parents a year back.
The same is the story at Guptipara at Hooghly district which is primarily a computer centre for the sole purpose to impart training to the needy people free of cost by providing them career oriented training. The trainings are mostly on application packages on topics related to Finance, AutoCAD, and Tally etc. The trainings are imparted by a computer learned person along with two more local Guptipara volunteers using two computers.
A huge round of applause and thanks definitely goes to TCS since their computers are key in shaping futures both for school students as well as trained personnel who otherwise would never have dreamt to learn these important subjects amidst their socio-economic hardships. VCLP has been in past and will be in future, a very successful program in creating a big and positive difference for this impoverished section of society.