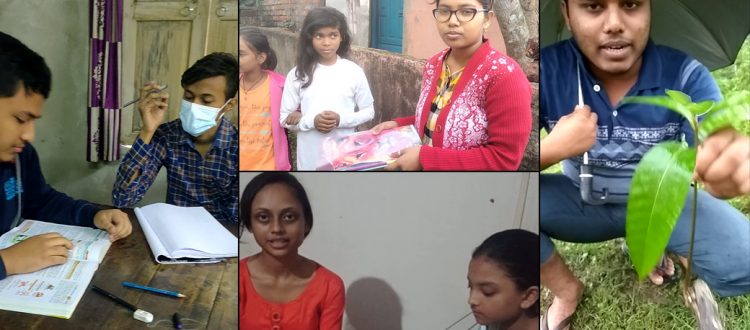 TSS Students are Making a Difference through Social Work
Mukti believes that student life is the perfect time for the personality development of children, the time that will determine whether the student can become an exemplary person in the future. For strong future generations and a beautiful future, value education is equally as necessary as conventional education. With this belief, Mukti has started values education for the students. Enlightened by this education, Mukti TSS (Talented Student Sponsorship) students are engaging in various social activities.
In this edition of the newsletter, we introduce some TSS students who, along with their studies, are working for the vulnerable people of society in their spare time. Some of them are teaching underprivileged boys and girls without pay, some are supporting deprived students by distributing books and some are planting trees on their own initiative. Mukti applauds their efforts. Mukti wishes them good luck and hopes for a brighter future.
Shreyasi Karmakar
Mukti| TSS Student Social Activity| Shreyasi Karmakar
Shreyasi Karmakar is pursuing 4th year B.A LLB from Jyotirmoy School of Law under Calcutta University and she lives with her father at Champahati village in the South 24 Parganas district of West Bengal. She lost her mother when she was a student of class X. Her father used to work in a telecom company before the lockdown. During the lockdown, her father lost his job. She has been supported by her maternal family for her family's daily needs. Due to financial constraints, she still has to clear her last year's educational expenses. Yet she still dreams of being a lawyer, a dream which is being enabled by the support of her TSS sponsor Ms. Ruchira Mandal. She is really grateful to her sponsor for helping her in realizing her dreams.
Shreyasi is providing free tuition classes to Dalia Karmakar. Dalia is a 6th-standard student. She cannot afford private tuition due to extreme financial constraints. Two -three days a week Shreyasi teaches her all subjects.
Soumyadeep Giri
Mukti| TSS Student Social Activity| Soumyadeep Giri
SoumyadeepGiri is presently pursuing BS-MS Dual Degree Program 1st year from the Indian Institute of Science Education and Research, Kolkata. He lives with his parents at Narayanpur village in the south 24 Parganas district of West Bengal. His mother works as an ICDS (Integrated Child Development Services) member. They own a shop which gets run by rent. His studies were at risk of being interrupted due to the family's unstable income.  In pursuit of his dream of higher studies, he applied to the Mukti TSS program and fortunately got selected by his sponsor Ms. Jayati Roy of Mukti Australia.
Soumyadeep helps deprived students of his locality by providing them with free tuition classes and clearing their doubts in his leisure time. He wishes he could reach out to more students in distress like him.
Trishna Halder
Mukti| TSS Student Social Activity| Trishna Halder
Trishna Halder is studying B.A LLB 2nd semester from Jyotirmoy School of Law under Calcutta University. She is a resident of KalikapurNatunpara, Sonarpur, Kolkata. Her family consists of her parents and grandmother. Her father is a driver and the only bread earner of their family. Her parents work day and night to manage her education expenses after fulfilling the family's daily needs. She was in great need of a supporter to stand by her in pursuit of her goals. Trisha considers herself fortunate to have received the sponsorship of Ms. Ruchira Mandal who has provided immense strength to Trisha by assuring her full support in completing her higher studies. Trisha expresses her gratitude to Ms. Ruchira.
Trisha distributed notebooks to two distressed children to encourage them to study.
Debajyoti Halder
Mukti| TSS Student Social Activity| Debajyoti Halder
Debajyoti Halder is pursuing B.Sc. in Perfusion Technology from the College Of Paramedical and Allied Health Sciences, WBUHS (West Bengal University of Health Sciences).  He stays with his mother at Raidighi in the South 24 Paraganas district of West Bengal. His father passed away when he was 8 years old. His mother stitches clothes and barely fulfills their family's requirements. His uncle sometimes helps them. Each day they have to struggle for their survival. Pursuing higher studies would have been an impossible dream for them without Mukti's support. Through Mukti's TSS program, Debajyoti was selected for sponsorship by Mr. Anjan Gupta of Mukti Australia. He is grateful to Mr. Gupta for supporting his studies.
Being motivated by Mukti's initiative in protecting the environment by planting trees Debajyoti planted trees in "Balir Math" at Raidighi area on his own initiative.