TSS Sponsor Student Meet between Mrs. Sanchita Bardhan and Tiyasa Biswas
On behalf of Mukti, TSS (Talented Student Sponsorship) team has organized another virtual sponsor student meeting between Mrs. Sanchita Bardhan and her sponsored student Tiyasa Biswas on 22nd April 2022, Friday. The meeting has been conducted by Ms. Pampa Karmakar – project coordinator of TSS and Ms. Pampa Burman – TSS Associate.
For the Mukti TSS team, Mrs. Bardhan and Tiyasa it is not just a meeting but is a personal act of love. The love and care of Mr. and Mrs. Bardhan for Tiyasa has not only touched her life and faith but also her family. Mr. and Mrs. Bardhan have a son who is almost the same age asTiyasa. So, the Bardhan family is able to share similar milestones with her. Tiyasa is like their another child. Even though they are continents apart from their sponsored child but the bond of love is intact.
Mukti expresses warm thanks and appreciation for the generous contribution of Mrs. Bardhan.
Tiyasa lives with her mother and her elder sister at Maslandapur, She has lost her father in 2017. Her elder sister after completing graduation with English honors is doing private tuition and runs the family expenses. Her elder sister is also preparing herself for the WBCS exam. Her mother is a homemaker and is an inspiration to her daughters on how to be happy in dire poverty and how to fight it. In 2018 Tiyasa passed the Madhyamik examination with 89% marks from Maslandapur Bhudev Smriti Balika Vidyalaya and has scored 92.8% marks in the H. S examination in 2020 from Rajballavpur High School. She has cleared the NEET exam and is now at present pursuing medical 1st professional from Calcutta National Medical College.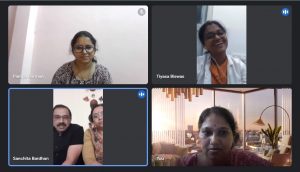 Mrs. Bardhan has been living in Kuwait with her husband and son for almost 20 years. She and her husband work as engineers in a refinery company. She is a materials engineer. Through the internet, she has come to know about the TSS program of Mukti. She and her husband's philanthropic nature have led them to engage themselves in social services. The reason for their association with the Mukti TSS program is – that they want the gifted students from disadvantaged backgrounds to help so that they can fulfill their dreams and can bring a change to their community or society.
Mr. and Mrs. Bardhan both have joined the meeting. They have been introduced to each other by the TSS team. They express their curiosity to know about Tiyasa's family background, how her study is going, how she and her family members are doing, what is going on in her college etc. They get impressed after reading her profile and have started loving her after interacting with her. They are happy to make her realize that there is a family far away who loves and supports her and will continue to do so till she achieves her goals.
They have asked Tiyasa why in spite of extreme poverty she has chosen a medical course and wants to be a doctor since medical courses cost a lot of money. Tiyasa replies that since her childhood she had a keen interest in stethoscope.  She used to play with it as a toy. It was like her soul. She has noticed doctors treat patients with that instrument. She used a feel a tremendous attraction to it. Since her childhood, she is bearing a strong determination of being a doctor. After growing up that attraction to stethoscope has become her goal. She has overcome all the challenges and is working hard to chase her dream. Her answer surprises them and they have been happy to think that their decision of choosing her has proved so appropriate.
Mr. Bardhan asks Tiyasa to call him or write a letter whenever she needs them. They assure all their support to her, no matter what the situation is, for she is in so much more need and she is just as precious as their own son.
Tiyasa thanked her sponsors by saying, "Learning that I am the recipient of such a prestigious sponsorship has really eased my financial concerns regarding obtaining my education. Your aid has motivated me to keep working hard to see my dream come true."