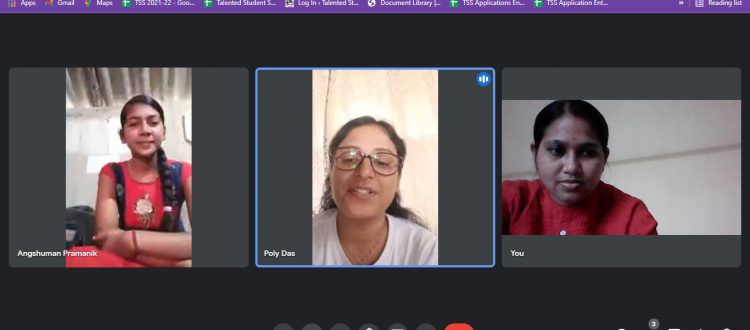 TSS Sponsor – Student Meet between Mrs. Poly Das and Aishraya Pramanik
To undertake the monitoring visits of the sponsors to meet the students directly to discuss study progress and any other relevant issues, every year Mukti TSS (Talented Student Sponsorship) team conducts sponsor-student meet. In this changing scenario, when the Covid cases are rising high and the Government has restricted movements, the Mukti TSS team has decided to conduct the meetings virtually instead of physical meetings.
One such meeting was held between Mrs. Poly Das and her sponsored student Aishraya Pramanik on 8th January 2022, Saturday. The meeting was organized by Mrs. Pampa Karmakar- Project coordinator of TSS. The sponsor and the student interacted with each other and discussed
Mukti expresses heartiest gratitude to Mrs. Das to inspire Aishraya to dream big and supporting her to make that dream come true.
Mrs. Das is associated with Mukti from the academic session, 2021-22. She is working with Willis Towers Watson Company in Ecospace, Newtown, Kolkata, West Bengal. She worked at Cognizant Technology Solutions for 6.8 years. She stays at Behala in Kolkata with her family.
Aishwarya is currently pursuing class XI with science stream in Narendrapur Milan Vidyapith. She lives with her parents and one younger sibling in the remote village of Raidighi. Her father is a farmer. His father supports his family by selling vegetables grown in their farming land. Her mother is suffering from a serious illness. It was impossible for her father to cover the cost of medical treatment and education at the same time. Her parents' ambitions for her have increased several times since she scored excellent marks in the Madhyamik examination.
Aishwarya is determined to pursue MBBS to serve the underprivileged people of a society free of cost. She wants to be a doctor to relieve her mother's physical pain and illness. The suffering of her mother made her so strong that she no longer cares about any obstacles and stays focused on her goal.
They were all very happy during the meeting. Mrs. Das praised the courage of Aishwarya. She advised her to take preparation from now onwards and to have faith in her dreams. Mrs. Das told Aishwarya not only for study but if she needed any help for her mother's treatment she could feel free to inform Mrs. Das. Mrs. Das assured Aishwarya of all her help and assistance throughout her career. Mrs. Das shares Aishwarya's plight like a true friend.
Aishwarya expresses her sincere gratitude to Mrs. Das and asked for her blessings. For Aishwarya, Mrs. Das is her second guardian. She wants Mrs. Das to be by her side.
Mukti TSS wishes all the best for her bright future and hopes one day she will become a doctor and devote herself to the service of poor people.