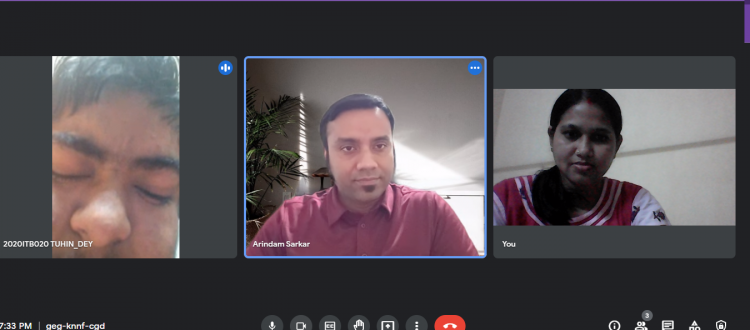 TSS Sponsor – Student Meet between Mr. Arindam Sarkar and Tuhin Dey
On 15th January 2022, Saturday another virtual sponsor student meeting had been organized by Mukti TSS (Talented Student Sponsorship) team. The meeting was between Mr. Arindam Sarkar and his sponsored student Tuhin Dey. On behalf of Mukti Ms. Srijita Sarkar- Program Manager Consultant – Education and Ms. Pampa Karmakar- TSS Project coordinator conducted the meeting. Mr. Sarkar wanted to meet the parents of Tuhin. So, at the request of Mr. Sarkar, Tuhin joined the meeting with his mother. The sponsor and his student met for the first time through a digital platform.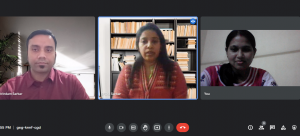 Mukti expresses sincere gratitude and appreciation to Mr. Sarkar for his generous contribution to the education of Tuhin.
Mr. Anirban Bannerjee is associated with Mukti from 2021 to 22. Mr. Sarkar was born in Kolkata but at present residing in Texas, Canada. He is staying there for 16-17 years and is working as a Computer Science Engineer.
Now, let Mukti introduce to Tuhin, an indomitable will.
Tuhin Dey is a B.Tech 2nd year engineering student of IIEST Shibpur. He lives at Chandipur, Kharagpur, Paschim (West) Medinipur Dist of West Bengal with his parents- Mr. Samiran Dey and Mrs. Sujata Dey. He has been physically challenged from his birth and cannot use 90% of his body parts. He writes and operates the computer with his mouth. He is suffering from Arthrogryposis Multiplex Congenital. He cannot even do his daily work without the help of his mother. He moves with the help of a wheelchair. He passed Madhyamik Examination with 88% marks from Kendriya Vidyalaya in 2017 and in 2019 he scored 69.8% marks in the Higher Secondary from Maa Bharati SR SEC School Talwandi Kota.
His father is running a daily wage basis job in a nearby locality and has no fixed income. His maternal grandfather helped him to assist his educational support. This brilliant soul belongs to a very poor family where education is placed in the seat of worship. His parents and grandfather have taught him to hide his physical disability, not to complain, not to show them and to remain steadfast towards his goal by defeating all adversities. He is blessed with a very supportive family who may not have the financial stability to continue his higher studies but always encourage him to stay focused on his dreams.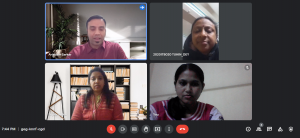 With thousand of hope Tuhin applied to Mukti TSS for sponsorship. After knowing about Tuhin and witnessing his talent Mr. Sarkar felt interested in him and selected Tuhin as his sponsor student.
During the meeting with his great surprise, Mr. Sarkar came to know that they both are the ex-students of the same school, Kendriya Vidyalaya. To motivate Tuhin Mr. Sarkar shared the stories of his own studenthood, his experiences and struggles. He asked Mrs. Dey what are the difficulties that Tuhin has to encounter not only in his studies but also in his everyday life and how Tuhin overcome them. Mr. Das admired the indomitable willpower of Tuhin. He advised Tuhin to work hard and to be very focused on his future. He assured all his help and greeted Tuhin for a bright future.
Tuhin and his mother happily expressed their sincere gratitude to Mr. Sarkar. Tuhin requested his sponsor to guide him as a guardian till he achieves his goal.
They both expressed their kin interest to meet in person. Mr. Sarkar promised to meet Tuhin, his parents and Mukti TSS team members once he comes to Kolkata.
Overall the meeting was successful. Through the meeting, a bond was created between the sponsor and his student. The attendees of the meeting ended it with a cheerful mode.