Training on Enhancing Teaching Skills of Kishalaya Teachers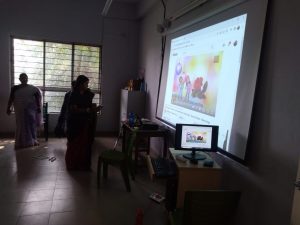 An advanced-level teacher's training program was organized by Mukti for the enhancement of teaching quality and technique of Kishalaya School teachers. The training was held at the Rotary Vivekananda School and Skill Development center, BMC, Kultali. 23 Kishalaya School teachers participated in the training program. The training session was conducted by the trainers from the Skill Development Center – Ms. Suchitra Sardar, Ms. Chandra Mondal and Ms. Korunamoyi Das.
Teachers were taught various interesting and innovative methods of teaching mathematics, phonics, drawing and crafts to heighten students' interest in learning. Additionally, a video was displayed to demonstrate how to encourage students to physical exercise. After the training, an evaluation session was conducted for the participants. Here, they were asked to do a role-play of teaching. Based on the role-play, the teaching proficiency was assessed, and practices were suggested for further improvement.
Gallery: https://muktiweb.org/gallery/album/training-on-enhancing-teaching-skills-of-kishalaya-teachers