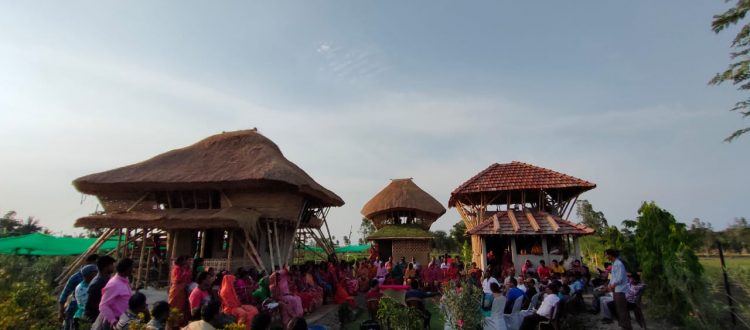 To Withstand Harsh Climate, Mukti is Constructing Model Houses at Mukti Gram
The obvious myth attached to local and traditional houses is that they are not strong, and are maintenance unfriendly. However, every possession of ours needs care and nurturing, and to understand this, Mukti started constructing model houses at Mukti Gram from September, 2020.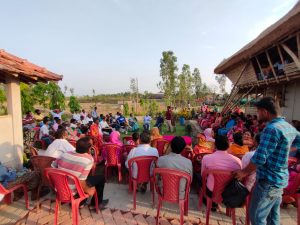 These model houses are made for the villagers with the aim that villagers will be interested to construct their own houses like these which are eco-friendly yet weather resistant model houses. To grow the interest of the villagers, Mukti on 14th April, 2021 invited them at Mukti Library Ground. Around 60 villagers of Mukti Gram visited the site. Mr. Mahesh Pansari from TCS and Mr. Pawan Agarwal from Srijan Reality were present as guests. Ms. Sangeeta Kapoor (from Blue Planet) the architect of the model houses explained in details about the structural pattern of the houses and the benefits of living in such houses. Mukti will help those villagers in making such houses who live below the poverty line.
Mukti has constructed 3 such houses at Mukti Library Ground. The three houses are made with three different architectural designs as well as materials.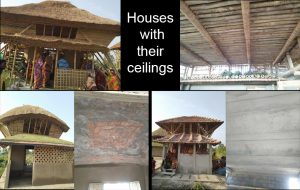 First one is made with bamboo with thatch ceiling and straw roofing; second one is made of mud with dom ceiling and thatch and grass roofing, the third house  is made with interlocking block with cell ceiling and tiles (tali) roofing . They are all two storey houses. The floors are made of cement. The combination of these materials, form, and design of the house results in greater climatic comfort and are much cooler, cheaper and recyclable.
For the beautification of the houses Mukti is building lawns, and pathways. Mukti has bought a special type of soft grass to cover the lawn area. The pathways are made with sun dried bricks with small row of grasses planted after every 1 feet. Mukti has planted some flowering plants to decorate the lawn area.
27 -30 workers are working at the site. They are receiving money and food from Mukti.