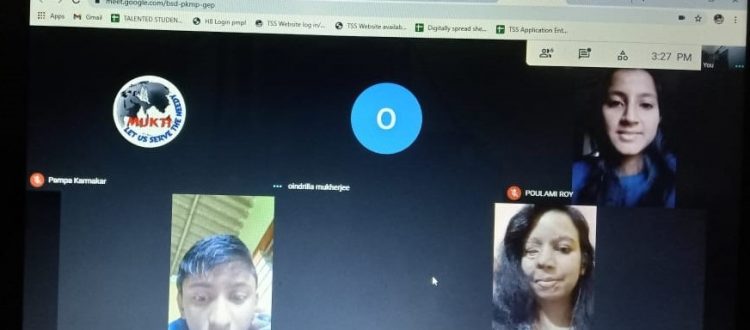 To Reinforce the Confidence of the Students Mukti TSS Members Organized Sponsor- Student Virtual Meet
On 26/12/2020, Saturday another virtual sponsor student meet between Ms. Oindrilla Mukherjee and her sponsored students Poulami Roy, Sankha Adak and Paramita Bera was conducted by the Mukti TSS team members.
Mukti TSS is thankful to Ms. Oindrilla Mukherjee for supporting deprived yet talented students with good career opportunities.
Ms. Mukherjee has been associated with Mukti since 2013. She was the first person to lead the project during its inception in 2006. Her ideas, planning, creativity, views and communication styles encouraged the team members. She has been an active volunteer with Mukti till date. Mukti TSS program gradually flourished with her handholding.
Professionally is the Assistant Professor of NIT (National Institute of Technology), Durgapur and is sponsoring students from 2013. She has uplifted many talented poor students and empowered them to bring visible change and transform society. At present she is sponsoring 3 students named Poulami Roy, Sankha Adak and Paramita Bera.
Poulami Roy is an existing student of Mukti TSS. She is receiving sponsorship from 2016. In the year 2020 she completed her graduation with Mathematics honors. After defeating so many hurdles of life and with the support of Ms. Oindrilla Mukherjee she completed her studies. She is preparing herself for competitive exams for the post of S.S.C. or Bank service.
Sankha Adak scored brilliant marks in Madhyamik Examination. Financial crisis was hindering his studies. He applied to Mukti TSS and Ms. Mukherjee at once stood by his side. At present he is the student of class XI in Science stream from Paramamandir Jagannath Institution. He dreams of carving out a better future for himself and his family. To change his dream into reality he wants to study hard and in such a young age he already has set the goal of his life. He wants to become a professor.
Paramita Bera is pursuing M.A. 2nd year with Sociology honors from Jadavpur University. At her young age she lost her father. She had an accident in the year 2015 and the incident affected her left side with an eye. The ruthless destiny did not stop her. Her mother became her strength and encouraged her to keep on studying. In the year 2015 she completed her Higher Secondary Examination with a phenomenal result. She applied to Mukti TSS and selected by Ms. Mukherjee. Ms. Mukherjee is supporting her from 2020.
The meeting was successful. The sponsor and the students both expressed their happiness after meeting each other. Ms. Mukherjee was overwhelmed to notice the confidence and determination of the students. She advised them to be focused in their studies no matter what happens. She appreciated the efforts of the students who despite all difficulties didn't get distressed. She assured her all help till they achieve their dreams.
Students thanked her to give wings to their dreams.