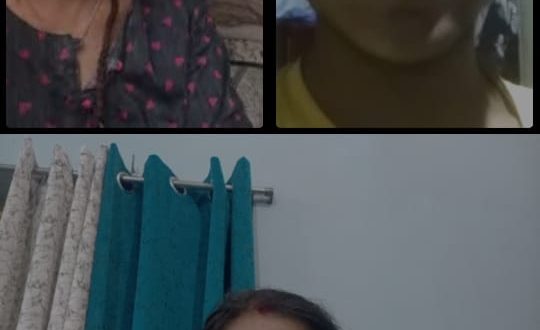 To Build the Bond of the New Student and New Sponsor Mukti TSS Team Organized Sponsor- Student Virtual Meet
Mukti TSS team organised a virtual sponsor student meet on 9th January, 2021, Saturday. The meeting was held between Mrs. Shampa Mukherjee and her sponsored student Arnob Saha. They met for the first time through virtual media.
Mukti TSS is grateful to Mrs. Mukherjee for supporting a meritorious student like Arnob. She provided him with opportunities to not only complete his education, but also transform into confident, competent and socially responsible individual.
Mrs. Mukherjee is one of our new sponsors and she is supporting Arnob from the current session of 2020-2021.
Arnob Saha is currently a student of class XI. He is pursuing his studies in Science stream from Nimpith Ramkrishna Vidyabhavan. He scored brilliant marks in Madhyamik but due to financial hindrance his education was going to an end. Arnob has great ambitions for himself but his parents could not afford to support him though they dreamt of Arnob to become successful in life. Arnob had almost lost hopes on his dreams when Mukti TSS team recognized his difficulties and offered him full financial assistance to continue his higher education. Mrs. Mukherjee selected him as her sponsored students.
They discussed with each other on every detail and shared their thoughts. Arnob introduced himself and discussed about his caree rand his ambition. He thanked Mrs. Mukherjee for all her guidance and great support.
Mrs. Mukherjee was pleased after meeting Arnob. She suggested Arnob to give extra care on Physics and Maths. She assured her full assistance to Arnob till he achieves his dreams.
The meeting with Mrs. Mukherjee gave Arnob confidence that his educational prospects are secured and encouraged him to work hard to achieve his goals.