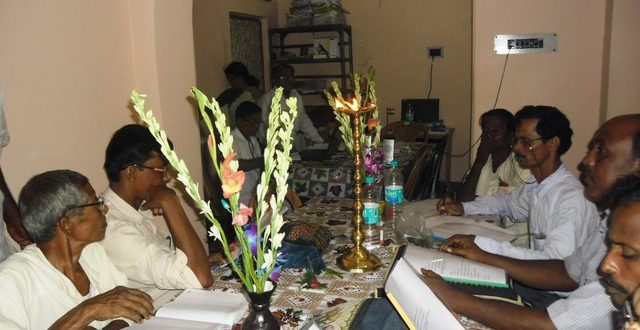 Third General Meeting Of MUKTI Took Place On 8th July 2012
Third General Meeting of MUKTI was held on July 8, 2012 at MUKTI Kolkata City Office at 100/L Baisnabghata, Patuli, Block – G, Kolkata – 700094. On every two years MUKTI Board of Trustees, different project coordinators and well-wishers assemble together to assess various activities took place in last two years, review the financial aspects of organization and prepare future roadmaps. As similar to last General Meeting this time also in addition to the local volunteers & members based on Kolkata, many members and well-wishers joined this meeting from different parts of world through Skype online conference facility.
Vice-President of MUKTI Biswanath Mandal inaugurated the session with welcome note and appreciated the hard works of all volunteers spread across the Globe. Through his encouraging speech Secretary Madhusudhan Bairagi explained the importance of open communication among various field level coordinators, trustee members and staff of MUKTI and how this affects the successful execution of any social projects being carried out. The Assistant Secretary Satyajit Roy presented the status of each projects and various activities being carried out at different parts of West Bengal and helped everyone realized how important they are for the organization and in turn to our society.
The treasurer Shubhra Chowdhury placed the audited accounts of MUKTI for the financial year 2011-12. After a useful discussion and careful review by all participants of the meeting, account statement was finally approved by current board of trusty. Miss Chowdhury was well appreciated by Board for her sincere effort as treasurer for last couple of years.
All field coordinators provided the status and concerns of the projects they are involved with and it helped Board to understand the issues and critical success factors of these projects. Gopal Pramanik, a well-wisher of MUKTI appreciated the comprehensive project activities of MUKTI. He also advised MUKTI to spread the good work on wider geography of West Bengal and other parts of India wherever needed. Bijoy Krishna Halder, trustee member, expressed his view on various burning issues of our society and advised MUKTI to work for the disabled as well in future. His thoughts were well appreciated in the forum.
On this General Meeting the decision has been taken to dissolve the current board with the support of house. The President of MUKTI, Sankar Halder, congratulated every members of current board for their valuable support and guidance over last two years, helped MUKTI to better serve the needy. The President also presented few critical analysis and insights of last two years activities in short and once again made a sincere appeal to the executive members for their active participation in coming years for the benefits of our society.
The chairman for the meeting, Biswanath Mandal, proposed to form the new executive member for the year 2012-2014. The proposed panel of executive members was discussed in the meeting and with everyone's supports the new Board of Trustee for next two years 2012-14 were selected and handover from old executive members were planned during the meeting.
Following executive members which have been selected for next two years tenure:
| | | |
| --- | --- | --- |
| President: | | Mr. Sankar Halder |
| Vice-President: | | Mr. Madhusudan Bairagi |
| Vice-President: | | Mr. Ranitendranath Tagore |
| Secretary: | | Mr. Biswanath Mandal |
| Asst. Secretary: | | Mr. Satyajit Roy |
| Treasurer: | | Mrs. Banhi Chakraborty |
| Asst. Treasurer: | | Mr. Kiran Kanti Kar |
| Member: | | Miss. Subhra Chowdhury |
| Member: | | Miss. Koel Ghorai |
| Member: | | Mr. Debobrata Halder |
| Member: | | Mr Gopal Pramanik |
| Member: | | Mr Narottam Das |
All Board of Trusty members who were present in the meeting at MUKTI office as well as on Skype online have approved the above panel and wish them all success.
The Chairman of this meeting, Mr Mandal had concluded the meeting with vote of thanks to everyone.