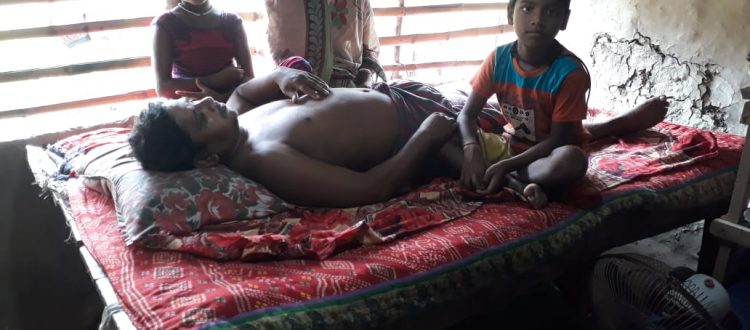 The MCDF of Herembogopalpur Helped in the Fight to Bring the Dying Back to Life
This is a story of the brave and kind group members of MCDF (Mukti Community Development Fund) Herembogopalpur branch, who relying on their self-reliance are determined to save the life of the husband of one of their group members. Together they handed over some financial help from their savings to their friend in her day of danger.
Mrs. Priyanka Manna, a 28 years old lady is the MCDF group member of Herembogopalpur branch. Her husband Mr. Nanda Manna, aged 37 years is suffering from a genital deadly disease. They have an 8 years old son and an 11 years old daughter. They are school students. Mr. Manna was the only bread earner of their family. He was a part-time school teacher.
Two years ago when his illness was first detected, he was no longer able to work. He was taken to Mumbai for treatment and the doctor prescribed surgery. It took 3 months to complete the treatment. An amount of 2 lakhs was spent. After the surgery, they came back. But the surgery was not effective. He has been bleeding profusely for the past month and doctors are suspecting that his illness may be leading to cancer. He is now bedridden.
Mrs. Manna is living in a very helpless state with her ill husband and children. There is no one to take care of them. They haven't any money neither for food nor for treatment. After fulfilling the family's daily needs it is impossible for her to arrange money for her husband's treatment. She may be compelled to stop educating her children.
MCDF Herembogopalpur Branch Supported One of Their Group Member For the Treatment of Her Husband
For the treatment, she needs 3-4 lakhs. With lots of hope, she applied to the MCDF Herembogopalpur Forum Committee for financial assistance. After hearing her tragic story, the women of the group came forward to help her. They handed over Rs.3500 rupees, as much as they could for the treatment of her husband.
Mrs. Manna thanked the Forum Committee members for their support. Mukti wishes her husband a quick recovery and prays to God that he can give Mrs. Manna mental strength while fighting against the disease.