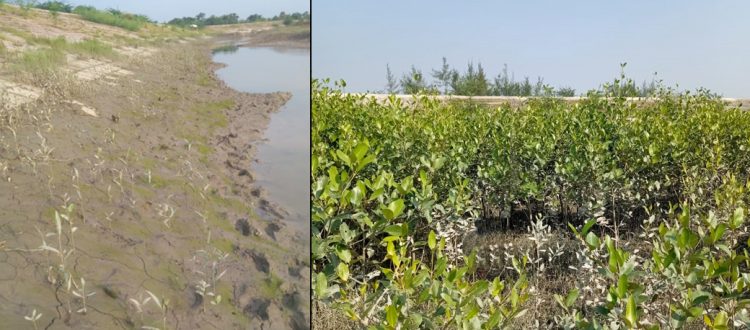 The Mangrove Forest Created by Mukti is Protecting Countless Lives
On November, 2020 the mangrove saplings that Mukti in association with "AID" planted at Charanekhali village under Basanti block on the junction point of river Matla and Hogol, locally named as Purandar, have now taken on the appearance of a forest.
Mukti Created Mangrove Forest at the Junction of Malta and Hogol River at Charanekhali Village
50,000 saplings of Sundori, Goran, Gayoya, Kankra, Keyora were planted on 50 Bigha of land. Those saplings now have grown to 5 to 6 feet tall. Thousands more saplings have been made by natural law. MCDF (Mukti Community Development Fund) members and MSS (Mukti Support School) students helped Mukti to create the forest. MCDF members nurtured, protect the saplings and made people aware not to do any harm to the forest. This forest is the result of their tireless efforts.
Mukti has created a mangrove nursery very close to this forest.
A beautiful ecosystem has been developed grounding the forest. The trees are protecting 4 villages inhabited by almost 16,000 people.