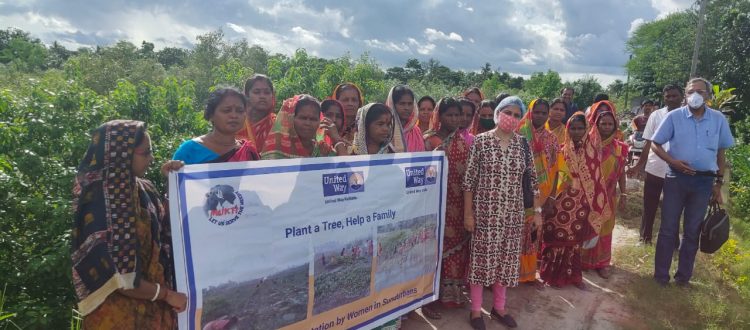 The Director of United Way Kolkata Visited the Mukti Mangrove Site
After the end of the meeting with the organic farmers Ms. Dipanwita Das, the director of United Way Kolkata attended another meeting on the 1st floor of Mukti Library with the 26 MCDF members of Nagendrapur GP who are engaged in the "Mangrove Plantation and Restoration" project of Mukti. The discussion started at 1:30 pm and continued till 2:00 pm.
Mr. Debabrata Halder, the CEO of Mukti and project coordinator of Mukti Fresh, Mr. Wassem Gaji, working committee member and Mr. Rajat Mondal, the mangrove project coordinator attended the meeting.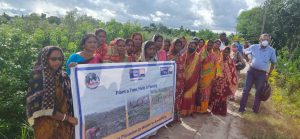 Ms. Das asked them about the progress of the mangrove plantation work. She wanted to know how many mangrove saplings have been planted, where they have been planted, how they are taking care of the trees, what are the difficulties they are facing, whether they are receiving the benefits of "Food for Work" and how can she help them in future.
They said that to date they have planted 40,000 mangroves on 1.5 acres of land in the Bhubaneswari Island, beside the river Thakuran under Nagendrapur GP. They have surrounded the mangrove plantation site by a net of thread so that none of the cattle can do any harm to the trees. They regularly monitor the trees. They have realized that the main reason for the destruction of mangroves is the apathy of human beings, not animals. Their biggest challenge is to make people aware of mangroves. They agreed that they have received food and money just in time and in sufficient quantities.
At around 2:00 pm she went to visit the mangrove plantation site. She was very satisfied after visiting the site and praised the work of Mukti. She inspired the women to plant more trees and maintain them. Her organization will help in every way.
The women of the self-help group told her that they were very happy as she came to visit them. They will be forever grateful to "United Way Kolkata" for being by the side of the people of the Sundarbans and for thinking about them.
Promising to visit again, she left for Kolkata at 3 pm.