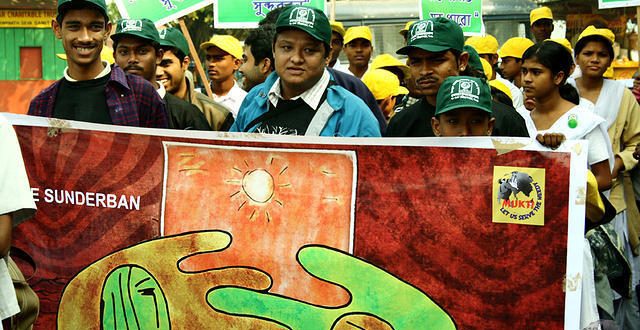 SUNDERBAN- Let We All Pledge to SAVE the "World Heritage Sunderban
28 cm Sea-Level Rise to Drown Sunderbans!  – According to WWF study published in journal Climate Change.
Is this the kind of news that we would like to read for sure with regards to the largest single block of tidal mangrove forest in the world, only home to ferocious Royal Bengal Tigers among numerous endangered flora and fauna and not to say, only home millions of our brothers and sisters spread across two countries most of them living in impoverished condition already?
Save the Sunderban Program by MUKTI – SaveTheSunderban.org
To resolve for help and pass on the answer positively against this question and survival of the whole Sunderban populace, many of our loving brothers and sisters along with MUKTI volunteers joined hands on 12-20-2009 in Uttarpara, Kolkata campaign. Though the occasion was 14th annual senior citizen's walking race, all mutually raised their voices against Global Warming enhanced due to acceleration of CO2 emissions caused by human greed. As seen in the lovely photos attached at the end of this document, the project started in front of Fort William and ended at Maidan near the statue of Ghosto Pal. MUKTI volunteers actively did the campaigning for Sunderban and distributed handbills and cards to senior citizens. Their membership drive was extremely successful with 40 senior citizens joining the forum.
On a similar but much broader forum on 12-08-2009, a rally program was held in front of Kolkata's famous site Victoria Memorial to raise voices against global warming and its disastrous impact in Sunderban. A huge crowd of 30,000 people attended the function including environmental activists, journalists, commoners and school students from near and far regions. Activists of MUKTI distributed fliers and cards to the Honorable Minister Mr. Kanti Ganguly and renowned delegates like P. K. Banerjeee, Mr. Sailen Manna, Mr. Masdur Rahman, and Mr. Santipada Ganchowdhery among others. After conclusion of the rally in the first half of the day, a seminar with the initiative of MUKTI volunteers was held by inside the Netaji Indoor Stadium. MUKTI set up some demands through the forum like a body which is in great need to monitor the activities of Global Warming in Sunderban. This body will channelize not only human flood relief fund but also wild life animal rescue at flood relief centers. Furthermore, proper rehabilitation, both for the above human and animal refugees, need to be set-up amidst government, national and internal relief funds.
Like above, a lot needs to be done to not only arrest the global warming but also be ready in case catastrophe does occur like increase floods due to rise in water level.