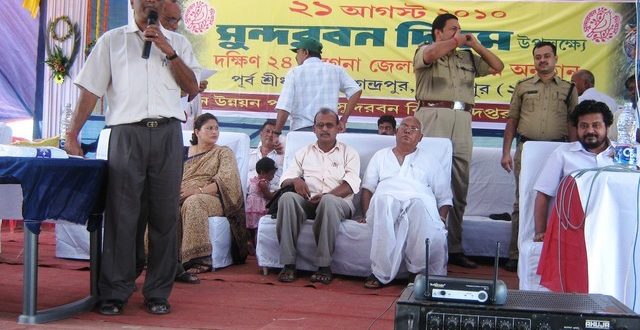 Sundarban Dibas (Day) 2010 Celebration
Sundarban, the delta of the river Ganges in the south 24 paraganas of West Bengal state in India is one of the wonders on earth. A lush green forest of mangroves with its natural inhabitant, the well-known Royal Bengal tiger, made it attractive, curious and famous. Due to Pollution and global warming the delta is submerging slowly into the Bay of Bengal. Hence, the existence of this delta and its habitants are in great danger. Mukti along with Government of West Bengal has taken some steps to make awareness in people regarding this threat.
As per Government of West Bengal declaration, 21st August in each year will be celebrated as Sundarban Day (Dibas). Sundarban Development Authority (Unnayan Parishad) with Mukti took a vital role to organize a huge gathering for meeting and awareness programs as a part of celebration of Sundarban Day on 21st August as a special day for the deltas.
MUKTI played main role in all respects as follows:
• Selection of Venue
• Preparation of dais
• Sitting arrangement for VIPs
• Distribution of snacks
• Receiving of students from vessel
• Volunteering
• Slide Show
• Plantation
• Distribution of Pen
• Arrangement of Lunch
• Tents for Health Staffs for emergency etc.
• Arranged 'Badaban' Plantation on riverbeds.
The chief guest of the program, Honble. Minister for Sunderban Affairs, Mr. Kanti Ganguly and Honble. Minister of Culture and Information Mr. Soumendra Nath Bera encouraged the gathering by their speech. Auspicious presence of famous swimmer Mrs. Bula Chowdhury and other officials made it a success. The entire Mukti family showed their skill and solidarity to organize such a big arrangement. Approx. 7000 students and 6000 villagers from different parts of Sundarban, a host news media attended the program to see and feel the importance of the day.
Honble. Minister Mr. Kanti Gangauly in his speech, promised to preserve the nature of this Delta and encouraged common people to protect this delta by all means from any danger. He planted a Badaban plant at the river bed. All VIPs and other dignitaries encouraged the gathering by their views regarding possibility of natural calamities in the coming days due to the abolition of Sunderban.
Cultural program by students and some professional groups, throughout the day enthralled the gathering with dance, drama, folk songs, music and recitation.
Celebration of 21st August created a huge impact on common people and the intellectuals highlighting the importance of Sundarban for our civilization.
We have to save our earth by saving ecology and 'save the Sunderban'. We should promise to make Every Day a Sunderban day to protect and save the Deltas.
Visit our Save The Sunderban page.
Let us 'Save the Sunderban'. Your help is much needed!