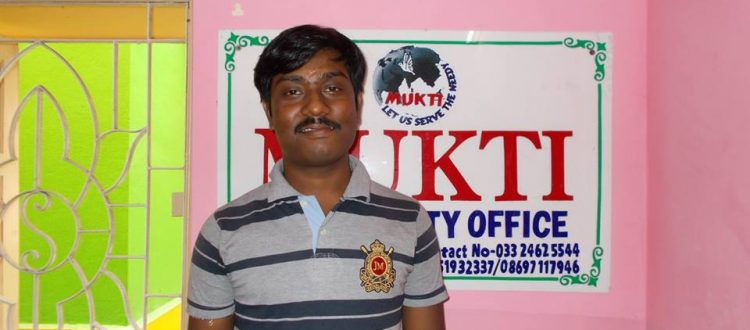 Success Story of Susanta Bera under TSS Program
Susanta Bera is a 22 year old student pursuing B.Tech. in Chemical Engineering from Calcutta University. The young man became associated with Mukti in the year 2014 through the Talented Students Sponsorship Programme while he had qualified for B.Tech.
Susanta was born in a nuclear family on 5th August 1993. His father was a farmer and only bread earner in the family. Susanta's mother was a housewife, and the couple had two children: Susanta and his elder sister. Though the family had been living in acute poverty, but the parents had been very keen to educate their children.
Susanta studied in the local village school till Std. X in Bilkua Sattagram High School and thereafter, moved to a boy's home named 'Nimta Be and Make Student Home' in North Kolkata. This remained a very crucial stage for him as he was aware that his parents were unable to bear his educational expenses and the boys' home was an immediate rescue as education, accommodation, fooding, etc. were completely free here. Against all odds and an entirely difficult situation, Susanta completed his Std. XII and graduated in science stream in the year 2013 from here. In the meantime in the year 2010, his father had suddenly passed away due to chronic cardiac disease and as per the student, his father never ever bothered to consult a physician because of the financial condition of the family.
This was a very hard time for Susanta to focus as a student, as the family was direly in need of money and had no source of income. During this time, Susanta's mother had no other option other than pulling herself out of her grief and her home to work in the field to fill the role of the father. During this extremely tough time, both the children tried to support the family and their own educational expenses by offering private tuitions.
Susanta finally decided to enroll in B.Tech, a professional degree which would help him to get a job faster. His hard work and sincerity bore fruit when he was selected during campus recruitment as a Management Trainee at Haldia Petrochemicals with a handsome salary.
Susanta is on the verge of completing his last semester of B.Tech in July 2016, and will join his new role immediately. On successful completion of a year as a Trainee, he will be promoted to Assistant Engineer. His immediate focus is now on extending financial support to the family and getting his elder sister married soon. Thereafter, he plans to do MBA and also extend noble support and gesture for the Boy's Home where he had spent some crucial years of his life. He wishes to help the students there by providing free coaching support and plans to construct a good home with basic facilities for the residents.
We wish him all the best for his future and also wish that he accomplishes his dreams successfully. Mukti will always remain at his side and support and motivate him through all possible means.