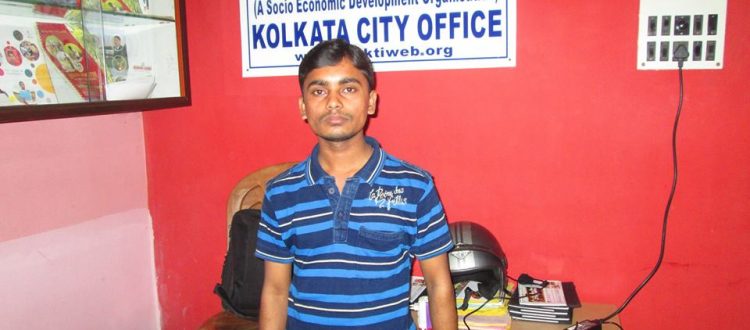 Success Story of Ashok Sarkar, A TSS Student
Ashok Sarkar, one of the long term recipients of sponsorship under Talented Student Sponsorship Program of Mukti had a successful association with Mukti since 2005.
Ashok is currently working as a teacher in an English medium school named "Good News Children Education Mission" in South Kolkata. He teaches English and Mathematics subjects to the students in the Nursery Standard since last year. Ashok says that he is very happy and quiet content with his job.
Ashok started receiving sponsorship from TSS since 2005. At that time, he was studying in Std.VII and received till 4 years till he completed his secondary examination. After a gap of 1 year, he again received scholarship for his Higher Secondary Exams and completed his graduation in English honors from Raidighi College in the year 2013 with sponsorship from AiducateNow. He expressed that the financial and emotional support received from AiducateNow motivated him to concentrate on his studies and he will always remain thankful to his sponsor.
Ashok appears to be more geared up for further studies at his own cost. He is currently taking preparation for competitive exams from George School of Competitive Exam to get through in openings in bank, post office, clerical jobs, etc. The course is for 1 year. Apart from this, he is also pursuing Masters in Arts from Karnataka Open University.
The student has made his sponsor and Mukti proud. We wish him all the best for his future and also wish that he accomplishes his dreams successfully. Mukti will always remain at his side and support and motivate him through all possible means.