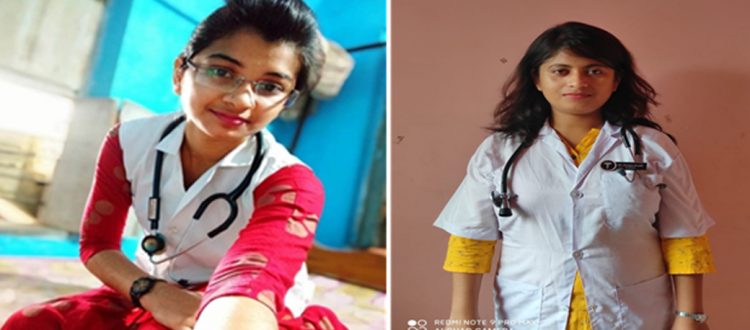 Success Stories of the TSS Alumni Students of 2020-21 (Part IV)
The Success Story of Supriya Niogi
Supriya Niogi, Mukti's alumnus student of Talented Student Sponsorship Programme of the year 2020, made Mukti very proud.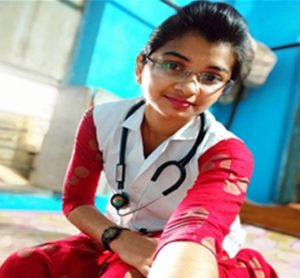 We are happy to share the inspiring success story of Supriya Niogi. From the very beginning, she was determined about her dreams and wanted to work for society. She wanted to treat sick people who are unable to get proper treatment. A person like her is very rare to find with such a vision full of mind she has truly become a noble nurse.
Supriya stays at Raidighi in the district of 24 Parganas in West Bengal. She belongs to an impoverished family with her parents and a younger sister. With great anguish, her family was fighting poverty. Her father runs a small fast food shop in the village, with fewer people buying from them left her father in great displeasure since there wasn't any money to buy anything. Her mother is mainly a homemaker but is also involved in some self-income processes. There was a lack of money in her family to purchase all necessities and books. With all these circumstantial issues she still did not give up and was even more inspired to go forward.
Supriya was a highly meritorious student and she appeared in the Madhyamik Examination with a score of 92% in the year 2014 and appeared in the Higher Secondary Examination with a score of 79% in the year 2016.
Her struggle started when she was pursuing class XI. Supriya studied in the local school in the village in Raidighi Srifaltala Chandrakanta High School. She was associated with Mukti from 2015 because someone needs to be the father of the renaissance and Mukti was the one. She heard of Mukti from her seniors and was really willing to apply for sponsorship. After the selection procedure was completed she got selected by Mr. Subimal Guria. With the help of this support, she appeared successfully in Higher Secondary examination.
After schooling, she decided to pursue B.Sc. Nursing course. In the meantime, Supriya tried to get a chance in nursing training. Besides all of this, she has also taken preparation in competitive exams such as JENPAH and got admission to Sister Florence College of Nursing. She was receiving sponsorship for 4 years from Mr. Guria. Supriya being a graceful student was tremendously happy and thanked her sponsor for his continuous support. From childhood, she wished to cure society by being a nurse. So she completed her B.Sc.nursing gradually in the year 2021 with the help of the sponsor's support. Similarly, In 2019-20 she got educational support from Mr. Sauvik Chakraborty when she was studying in B.Sc. nursing 3rd year. With the continuing support of Mr. Guria and Mr. Sauvik Chakraborty, she completed her course successfully in 2021.
Meanwhile, she has sent a personal CV to different institutions and got an offer from Kothari Medical Hospital. Currently, she joined here and now she is doing an internship from there. From all these years, months of hardship and mitigation finally got a lavish lifestyle.
We wish her all the best for her future and keep going ahead. Also, we wish that she accomplishes her dreams successfully! a Happy ending for a scholar for her succession took place.
The Success story of Suriya Sazida
Suriya Sazida,an alumnus of the Talented Student Sponsorship program of Mukti 2020. She is a good inspiration for all TSS scholars, and we are proud of her.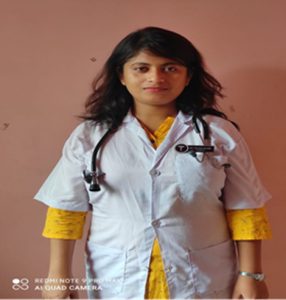 Suraiya was born at Barasat in the district of North 24 Parganas in West Bengal. Her family consists of 7 members along with Suriya. Suriya's father works as a daily wage worker and is the sole earner of the family. Once he was working in a private company but due to some functionality issues, the company was locked out in 2012. Her mother is a housewife. She is amongst one of them and the rest 3 siblings are pursuing their personal education field.
The student studied in the Al Ameen Mission and was always a good performer. She appeared in the Madhyamik examination from Samanta Nagar Asha Molina Balika Vidyalaya in 2012 with a score of 88% and appeared in the Higher Secondary examination from Abdul Motalib High Madrasa High School in 2014 with a score of 80%. After schooling, she enrolled in Al Ameen Mission for MBBS preparation. She studied here for 1 year and got a chance in the medical field.
After completing Std. XII, she appeared for the West Bengal Joint Entrance Examination in 2015 and qualified. She was admitted to Calcutta National Medical College and Hospital in the year 2015. It was very hard for her parents to arrange the expenses of study.
It was becoming very difficult for the student to meet the expenses. At the same time, she got a scholarship amount from West Bengal Minorities Development and Finance Corporation (WBMDFC). Besides this Suriya managed her education expenses by doing part-time private tuitions. But that was creating a tough situation to continue her study. The rest of the part managed her parents to borrow from their nearest friends circle. During that time, she came to know about Mukti and the Talented Student Sponsorship Programme from one of his close friends. She immediately applied to Mukti and submitted all the relevant credentials. Suriya was shortlisted for a scholarship through the interview process.
Suraiya has been receiving sponsorship from Mr. Niladri Nath Bagchi since 2016 when she was pursuing MBBS 2nd professional. With his support, she gradually started overcoming her obstacles. She completed the course successfully. She is very thankful to her sponsor for her enduring support.
Currently, she is doing Housestaffship (Junior Resident Doctor) at Calcutta National Medical College and Hospital and she is also preparing for the NEET PG exam for post-graduation. She wants to do post-graduation in Gynecology and Obstetrics. Parallelly she wants to give financial support to her family.
She said,' thank you so much Mukti for being there for her, for making her journey easier'. She'll try her best to be with Mukti and to return this help to the needy of society.
Aside from her academics, she had some noble and practical ideas of service to society, when she will be in a better position.
She also said, "Thank you so much Mr. Niladri Bagchi sir for standing by my side not only as a sponsor but also as a guide, mentor and well-wisher"
We wish her all the best for her near future.