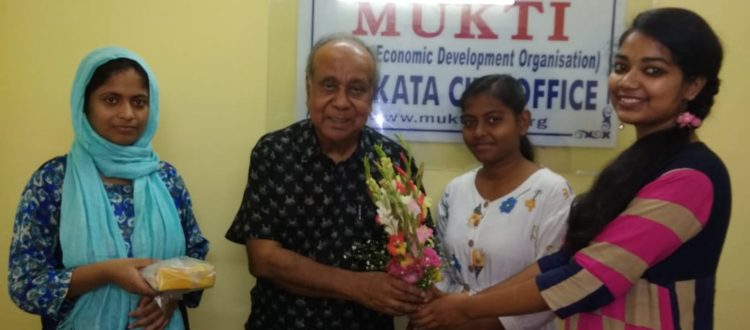 Student-Sponsor Meeting of TSS Project
Another of our student-sponsor meetings was organised on 9th June 2018 by MUKTI.
Mr. Niladri Nath Bagchi has been sponsoring 3 students of the TSS project since the session 2017-18. The students are Paramita Naskar (pursuing graduation, English Honors), Suraiya Sazida (pursuing MBBS,), and Payel Mandal (presently pursuing higher secondary studies, general category). They felicitated Mr. Bagchi with a flower bouquet and sweets on this occasion.
During the meeting, Mr.Bagchi had detailed discussions with each of his sponsored students regarding their academic performance and challenges. He advised them on preparations for better performance, and provided words of encouragement. He also emphasized the need for recreational and creative pursuits for the holistic growth for these budding gems of the future. In addition to this, he also openly shared the story of his own experiences and struggles to impart some guiding words to these students for the hard times they may face sooner or later.
Mr. Bagchi gladly reassured all kinds of support for the well-being of these students. The latter were equally happy to receive such endearing words from him, and through their discussions with him, they found a much needed impetus towards their own future plans and their  areas of interest.
More photos are uploaded in our MUKTI gallery
https://muktiweb.org/gallery/album/tss-project-student-sponsor-meeting