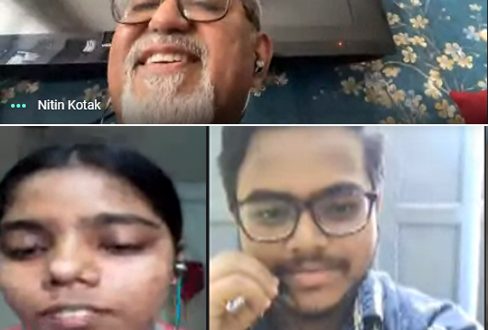 Sponsor Student Virtual Meeting Between Mr. Nitin V. Kotak and Students
The second wave of the Covid-19 in Bengal, commonly known as "Bengal Strain", is increasingly being found to be an indigenous, more infective and more deadly. Realizing the present scenario Mukti TSS team had decided to stop personal meetings of the sponsors and the sponsored students till the situation has improved.
But education must not be stopped in any adverse situation. To keep the students focused on their goal, Mukti TSS team organized a virtual sponsor student meeting on 20th April, Tuesday between the sponsor, Mr. Nitin V. Kotak and his sponsored students, Tanu Jaiswal and Akash Mukherjee. They met for the first time through digital media.
Mukti is grateful to Mr. Nitin V. Kotak for supporting two brilliant students who under compulsion may not have been able to continue their education.
Mr. Nitin V. Kotak is the Co-founder, Trustee and Treasurer of Kolkata Foundation. He is associated with Mukti TSS from last academic year i.e. 2020-21. His organisation has supported Mukti in other projects and from there he starts his association with TSS.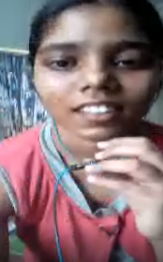 Tanu Jaiswal is presently pursuing class XI with commerce from Seth Soorajmull Jalan Balika Vidyalaya. She stays at Maniktala road in Kolkata. Tanu belongs to a middle class family. There are 4 members in her family. She has a younger sister. Her father Shri Taraknath Jaiswal was working in a private company. He lost his job during the lockdown period. Her mother Smt. Rina Jaiswal took all the responsibilities of their family on her shoulders. She started to work as a tailor and saved the family. It was very tough for her mother to educate her two daughters.
From her mother she got all the strength to fight poverty and still to be focused on the aim. She realized that only education can help her to live a life she dreams of. She wants to be a bank manager, in order to create an independent identity for herself. She has a strong desire to become a C.A. With a lot of hope she applied to Mukti TSS so that she can get a sponsor who will support her to fulfill her dreams. She was selected by Mr. Nitin V. Kotak.
Akash Mukherjee is currently pursuing B.Com with Accounting & Finance Honors, 1st year from Goenka College of Commerce & Business Administration. With Commerce he is simultaneously learning chartered accountancy. He stays at Baidyabati in Hooghly with his parents. Akash is the only child in his family. His father, Shri Apurba Mukherjee is a private tutor.  His parents struggled a lot to give him proper education. But over time it was being unbearable for his parents to support him for his higher studies. Despite the setbacks, his spirit remained strong. The challenges made him more determined. As a means to advance his career he enrolled himself to Mukti TSS for a sponsorship.
From his childhood he was a studious student and very focused on how he wants to build up his career. He is planning to sit for CAT after completing his CA final examination to pursue MBA from the renowned IIM. He is interested in administrative jobs.
During the meeting they had a detailed discussion with each other. Mr. Nitin V. Kotak shared his own experience to motivate the students to achieve their aims. He assured his all help to strengthen them so that they can remain focused in this hard time. He was overwhelmed to see the stunning performances of Tanu and Akash.
Both the students happily expressed their sincere gratitude to Mr. Nitin V. Kotak and said to guide them till they achieve their dream jobs.