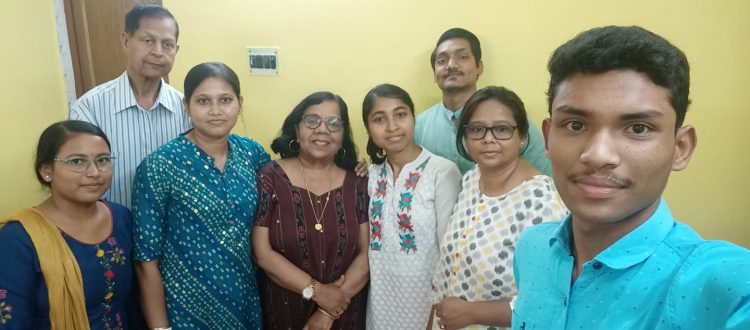 Sponsor- Student Meeting Between Mrs. Mitra Das and Students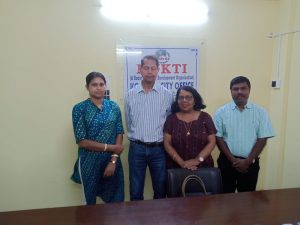 Mukti TSS (Talented Student Sponsorship) team organized a sponsor-student meeting between Mrs. Mitra Das (Mukti Australia volunteer), her husband, and their three sponsored students – Ranjana Maikap, Sujan Mondal and Shreya Karan. The meeting was scheduled on 10th November 2022 at Mukti city office, Garia. Along with the TSS team, Mr. Sankar Halder (Founder President of Mukti) also attended the meeting.
Ranjana Maikap is pursuingB.Sc. (pass) 3rd Year from Dhruba Chand Halder College. She resides at Raidighiin South 24 Parganas, West Bengal, with her 5-member family. Her farmer family faces financial hardships and finds it difficult to support Ranjana's studies.
Sujan Mondal is a student in B.Sc. (Statistics Honours) 1st year from Presidency University. He stays with his parents and younger brother at Damkal village of South 24 Parganas. His father is a spectacle salesman and struggles to meet the household expenses and the educational expenses for his children.
Shreya Karan is pursuing BSc in Nursing 2nd year from "International Institute of Nursing &Research", Kalyani. She is a resident of Kuemuri village under Patharpratima Block of South 24 Parganas.In spite of financial hardships; Shreya has nurtured a dream of becoming a doctor since her childhood.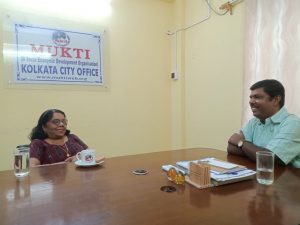 Mrs. Das appreciates the undying spirits of these students in the midst of their difficult circumstances and therefore is trying to help them through her sponsorship. For the students, in turn, the sponsorships come as a lifeline to realize their dreams.
During the meeting, Mrs. Das discussed the academic progress of the students, guided them in their respective fields of study, and encouraged them to endeavor to the fullest to fulfill their dreams.
The students thanked her for her generosity, guidance and support. They told her that her kindness motivates them to help others in need, and they'll want to do so in the future.