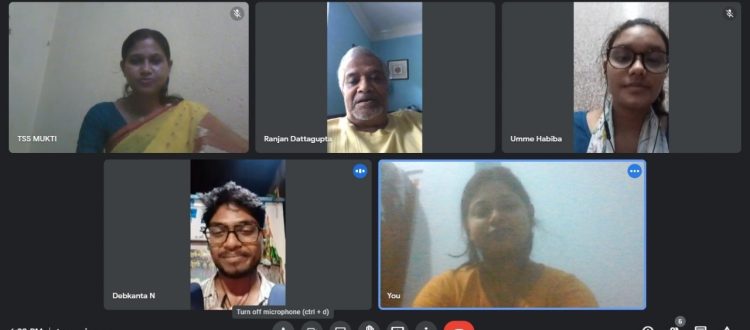 Sponsor Student Meeting Between Mr. Ranjan Dutta Gupta and Students
On 9th September 2021, Thursday Mukti TSS (Talented Students Sponsorship) team organized a virtual sponsor-student meeting between Mr. Ranjan Dutta Gupta and his two sponsored students Umme Habiba and Debkanta Nandi of the academic session of 2020-21.  This is the second time they have met with each other virtually.  Mukti TSS team considers it better to use virtual platforms instead of holding face-to-face meetings to keep students safe during the Corona pandemic.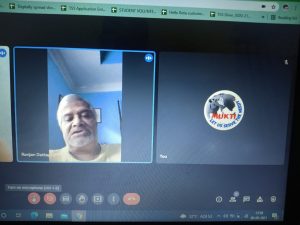 Mukti TSS team is thankful to Mr. Ranjan Dutta Gupta for supporting the needy yet brilliant students to shine bright in their careers.
Mr. Dutta Gupta presently residing in Atlanta, USA, loves to serve needy people. Being inspired by his parents, from his childhood he is working for their care, sustenance, stability and healthy life. He is associated with Mukti since 2020. He has chosen Mukti as one of his charities, to support its cause in providing necessary resources for the children's education, academic growth, and family support.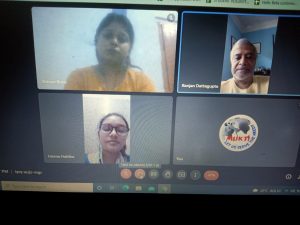 Umme Habiba is pursuing MBBS 3rd year professional part-I from Institute of Post Graduate of Medical Education & Research, SSKM Hospital. Umme lives inBarafalimari of Coochbihar district with her parents and her younger sister. Both the sisters are very meritorious students. From her childhood, Umme wants to be a doctor. Her father is the only bread earner of her family. He is a private tutor of the Arabic language as well as a farmer and her mother is a homemaker. Due to low family income, it was not possible for her parents to arrange money for their daughter's higher education. But her parents always encouraged her to continue her studies.
The death of the poor due to lack of medical treatment and money would afflict her from a young age. She wanted to study medicine with the dream of providing free medical treatment to poor people. She did not deviate from her goal even in the midst of hundreds of hardships to fulfill the dream.
With the blessings of his parents and with the help and inspiration of Mr. Dutta Gupta now after completing MBBS she wants to complete MD in medicine then DM in Gastroenterology. In the future, she wants to create an organization where the poor and needy can get free education and medical treatment.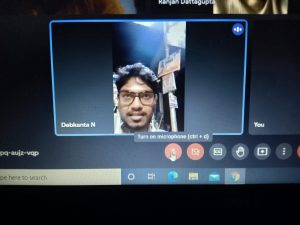 Debkanta Nandi is pursuing a Bachelor of Engineering with Food Technology & Biochemical Engineering 4th year from Jadavpur University. He wants to become a researcher. He with his parents resides in Dankuni, Hooghly.
His father works as a daily wager. But for the last two years, his income has been almost nothing. The Covid-19 pandemic and the subsequent lockdown have hindered his income. It is impossible for him to continue his family expenses and the study of Debkanta. The mother of Debkanta is a homemaker. Devanakar saw his mother enduring a lot of hardships and still smiling. He has seen how her mother has kept their family happy even with very little income. His parents' struggles and courage have inspired him over and over again.
Devkanth started doing tuition to support his education and family expenses. While supporting his family he continues his BE degree and joined as an intern in CENTRAL DAIRY and completed an internship in ITC Ltd.
Poverty could not distract him from his goal. With his own will, the blessings of his parents and the sincere support of Mr. Dutta Gupta, he continues to pursue his dream with unwavering enthusiasm.
They sought Mr. Dutta's valuable advice and guidance to further enhance their careers. He encouraged and inspired them to continue their higher studies till they get established. He told them if their family faces a problem then they can inform him and he will try his best to help them. To motivate them he gives examples of his own struggles. He assured to support them as long as they want to study. He advises Debkanta to start preparing for GATE (Gratitude Aptitude Test in Engineering).
The students thanked him for providing them support and assistance.
Their sincere presence made the meeting a success. Inspired by the cordial behavior of Mr. Dutta Gupta, the students shared everything with him. After meeting with each other, three of them express their happiness. They ended the meeting by promising to meet each other once again.