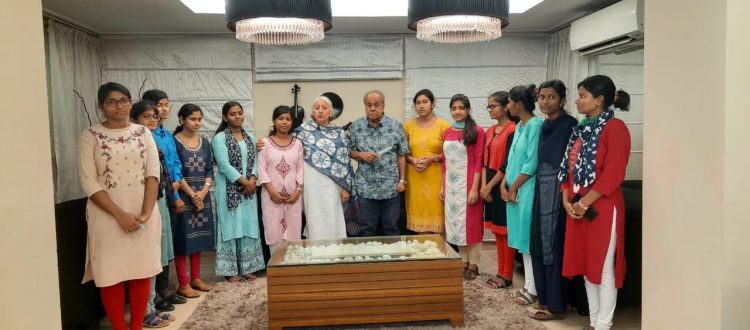 Sponsor Student Meeting Between Mr. Niladri Nath Bagchi and 12 Students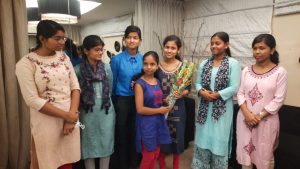 For the first time after the panic of the epidemic subside Mukti has conducted a sponsor student meeting on 17th June 2022 at UPOHAR the Condoville Chak, Garia, Panchsayar in Kolkata-94 in a wide-open private space of Mr. Niladri Nath Bagchi's tower.
The meeting has been attended by 22 people including Mr. Niladri Nath Bagchi, Ms. Gitanjali Bagchi, Father of Bina Das, Parents of Arundhuti, Father of Tithi Pal, Maternal uncle(mama) of Sampa Rani Bera, father of Laboni Das, mother of Madhurima Mahapatra, 12 students and Mukti TSS staff.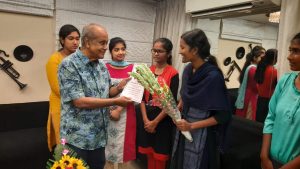 Mr. Bagchi has shown interest to interact with the students directly. Mukti organized the meeting at his residence to respect his wishes and to make the students feel comfortable discussing their own strengths, weaknesses, ambitions, experiences and problems openly. The meeting lasted from 11.30 am to 4 pm.
Mr. Bagchi has been associated with Mukti from the session 2017-18. He has started sponsoring 3 students but in 2022 he is sponsoring 15 students from different categories. He is a Not-for-Profit Management Consultant; Certified Executive Coach and Professional Leadership Coach.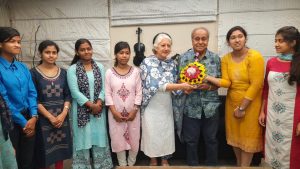 Mr. Bagchi and his wife have been very pleased to arrange such a get-together . Every student gets a chance to introduce herself. A healthy discussion has continued among them about their strengths, weaknesses, hobbies, future plans and more. He has also talked with their parents.  Mr. Bagchi appreciated the effort of the students to travel a long distance to meet him and to explore new thoughts and exchange new ideas. Mr. Bagchi also thanked the guardians who came to afford their daughters this experience.
In Mr. Bagchi's opinion – all the work and all the efforts will be futile if students don't be able to shed their fears and inhibitions that hold them back. In a single word, Ms. Bagchi has proven to be a true friend, a skillful philosopher and a proper guide. Mr. and Ms. Bagchi have arranged a launch for all.
He has felicitated two HS-appeared students (Bina & Arundhuti) with a flower stick and a student's self photograph.
Mukti felicitated Mr. Bagchi with a flower bouquet and a refreshment packet.
The meeting went well and everyone express their happiness after meeting with each other.
Introduction of the students –
Name

Address
Currently Pursuing
School/

College

Parent's Occupation

Payel Mondal

Vill-Purba Ghasiara, Sonarpur,

Dist-South 24 Paraganas,

West Bengal

B.Sc.(Zoology),3rd year
Charuchandra College
Daily laborer
Sunanda Adhikary
Purba Panchannagra, Post Office –VIP Nagar, Police Station –Anandapur, Kolkata District – North 24 Pgs
B.Sc. 3rd (6th Sem) year with Zoology Honours
Charuchandra College

Daily laborer

Supriya Purkait

Katjunagar, Jadavpur, Kolkata. District – North 24 Pgs, West Bengal
B.Sc. 3rd year (6th Sem.) with Zoology Honours
Charuchandra College
Farmer
Tithi Pal
Vill+P.O- Dakshinkhand, P.S-Salar, Dist-Murshidabad, West Bengal
B.A English (H)
Katwa College

Farmer

Piyali Halder

Vill + P.O – Kankandighi, P.S – Raidighi, Pin – 743383, West Bengal
B.A 1st year Geography Hons
Raidighi College
Farmer
Sneha Chatterjee
East Baidyapara, Sonarpur, Kol- 700150
XI
Kamrabad Ucchyavidyalaya

Shopkeeper

Sampa Rani Bera

Vill – Kaylapara, P.O – Haradhanpur, P.S – SAGAR, DIST – South 24 Parganas, Pin – 743373
XI
Kaylapara Surendranath Deshpran High School
Daily laborer
Laboni Das
Aryanagar, Balagarh, Hooghly, West Bengal
GNM, Nursing training center ( 3 yrs),1st yr.
E.S.I Hospital, Manicktala

Farmer

Arundhuti Maity

Nandakumarpur, Raidighi, South 24 Paraganas, PIN-743349,West Bengal
Appeared in H.S 2022
–
Farmer
Bina Das
Rajnagar Srinath Gram, South 24 Paraganas, West Bengal
Appeared in H.S 2022
–

Shopkeeper

Madhurima Mahapatra

VILL – Gobindapur, P.O – Debi Gobindapur, P.S – Sagar, Dist – South 24 Pgs , PIN – 743373, West Bengal
XI- Science
Khansaheb Abad High School
Daily laborer

Suraya Kamal

Vill+ P.O- Jestha, P.S- Nalhati , Dist- Birbhum, Pin -731237, West Bengal
B.Sc. Nursing, 2nd year
Govt. College of Nursing Burdwan Medical College
Poultry farming