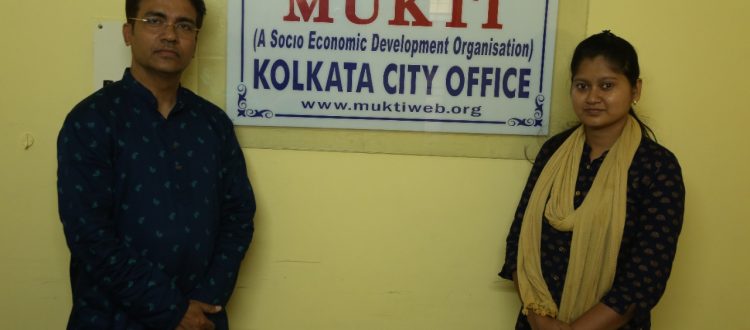 Sponsor- Student Meeting Between Mr. Biswajit Banerji and Nurjahan Khatun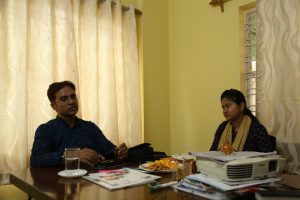 After the pandemic on behalf of the Mukti TSS (Talented Student Sponsorship) team organized the second in-person sponsor student meeting Mr. Biswajit Banerji and Nurjahan Khatun. The meeting has been organized at Mukti City Office, Garia, Kolkata on 8th July 2022, Friday.
This has been their first in-person meeting as Mr. Banerji wanted to interact with her directly and wanted an open discussion.
Mukti expresses sincere thanks to Mr. Banerji for his most generous contribution. His contribution has helped Nurjahan to continue her studies and chase her dream.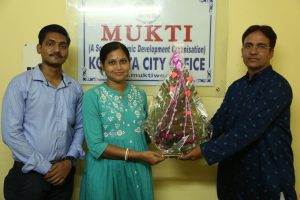 Mr. Banerji has been associated with Mukti since 2020-21. By profession, he is a General Manager in ALBAN Food Company in Doha, Qatar. He has been a Sales Professional for almost 17 years and has worked with Coca-Cola, Pepsi Cola, Virgin Cola and other world-renowned FMCG companies. He is currently engaged with the Largest Food Company in GCC, working in Africa, the Gulf and a couple of states in India.
Nurjahan is currently pursuing MBBS 3rd profession final year from Nilratan Sircar Medica College & Hospital. She stays at Kadamgere in the Bankura district of West Bengal. Her family consists of 5 members. She belongs to a middle-class farmer family and the agricultural land that her father owns is the only source of income for the family. Her parents work day to night to up bring their daughter. The annual family income is not sufficient to meet their everyday need and continue her higher studies.  Nurjahan wants to become a Gynecologist.  To gain a doctor's degree, she has been passionate about her studies from the very beginning. With an indomitable spirit, she has applied to the Mukti TSS program for sponsorship and has been got selected by Mr. Banerji.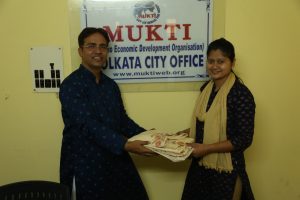 The session was amazing and charming. A healthy discussion has been continued among them about Nurjahan's education, strength, weaknesses, hobbies, future plans and many more. Mr. Banerji shared his own experience to motivate Nurjahan. The meeting went well and each person was happy to meet each other.
Mr. Banerji thanked Mukti for organizing the meeting. The Mukti TSS team has felicities him with a flower bouquet, a refreshment packet, an annual Report and a TSS flyer.
Mr.Biswajit Banerji gifted Nurjahan a beautiful dress and a bouquet to team TSS.