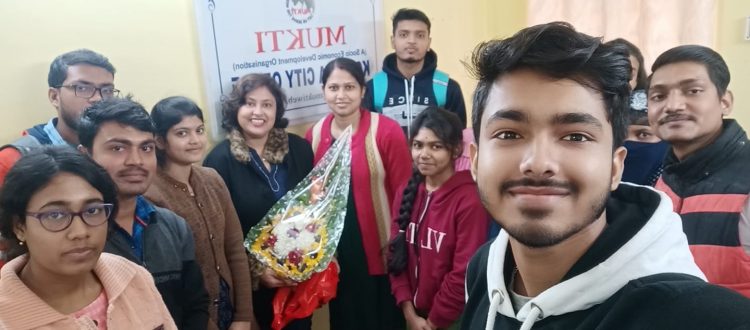 Sponsor Student Meeting Between Aiducate Now and students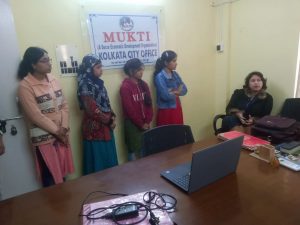 The Mukti TSS (Talented Student Sponsorship) team organized a meeting between Aiducate Now and the 17 students that they have sponsored this year. Although Aiducate Now has been associated with Mukti from 2013-14, it was their first meeting with the students where the students met their sponsors in person. The meeting was held on 7th January2023Saturday, at the Mukti city office in Garia. On behalf of Aiducate Now, Ms. Debasree Banerjee came to meet the students and shared some beautiful moments with them.11 of the 17 students were able to attend the meeting. Some of the students came with their guardians from Medinipur and Katwa districts. 5 of the 11 attending students were newly selected this year. The 6 students, who could not attend, were busy due to their semester exams.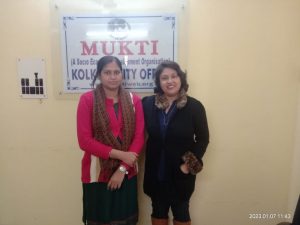 Mukti thanks Aiducate Now and Ms. Banerjee for helping the students to achieve their dreams by allowing the students to focus on their goals without the distraction of financial worries.
Ms. Banerjee holds a Bachelor's degree in EE from Jadavpur University. She grew up in Kolkata and moved to the United States to pursue higher studies. She got her Master's in Computer Engineering from UC Santa Cruz and her MBA from Santa Clara University Leavey School of Business. She currently works as an Engineering Leader at Cisco Meraki in San Francisco, California. She has always been a believer in equal educational opportunities and for this reason, has been associated with Aiducate Now for the past decade.
| | | | | |
| --- | --- | --- | --- | --- |
| Name of the student | Academic status | Address | Institute name | Family livelihood |
| Mihir Baidya | M.Sc. with Geography | Jahor Colony, South 24 Parganas | University of Calcutta | His father is a farmer |
| Sanskriti Audhya | B.A English Honours 2nd year 1st semester | Marvel Castle,Garia,Kolkata 700084,24 Parganas(South) | Dinabandhu Andrews College | Mother takes small tailoring assignments |
| Dona Mondal | B.Sc 2nd year Zoology Hons | Village -Ghasiara,South 24 Pgs,West Bengal | Ghasiara Vidyapith | Father is a salesman |
| Souvik Ghosh | B.Sc. Maths Honours 1st year | Kamardanga,Aida Kismat,Balagarh,Hooghly712512 | Sreegopal Banerjee College | Father is a farmer |
| Dipanjan Mondal | B.Sc Statistics 2nd Year | Village – Domkol, Block- Mathurapur II, South 24 Pgs, West Bengal | Asutosh College | Father works in a local spectacle shop |
| Soumyadeep Acharyya | BCA,3rd year 1st semester | Paschim Medinipur Ghatal Gombhir nagar, WestBengal | The Heritage Academy | Father is a daily laborer |
| Prity Mistry | B.Sc. Mathematics(H) 3rd year 5th semester | VillageUttar Bansra, PO   Bansra, PS Jibatala | Victoria Institution (College) | Father is a fruit vendor |
| Swagata Giri | Class – XI, Science | Talda,Talda RatanchakDantan,Paschim Medinipur,WB | Datan High School | Father is a farmer |
| Maitree Das | B.Sc. Biology general 1st year | Village, PO, PS Raidighi, South 24 Parganas | Surendranath College | Father is a farmer |
| Krishna Patra | B.Sc. Physics Honours 5th semester | Village North Haradhanpur, P.O Haradhanpur, P.S – Sagar, West Bengal | Rammohan College | Father is a farmer |
| Jasmina Khatun Mondal | B.Sc. Geography Honours 1st year | Village Paschim jata, Post- Jata Jogendrapur | Raidighi College | Father is a daily laborer |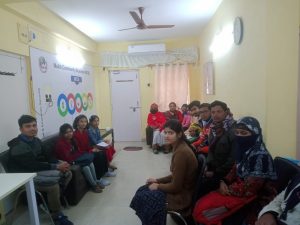 Ms. Debasree interacted with each student and their parents. She was keen to know about their family background and how they managed to support their children's education despite a low family income. She was surprised to know the huge expenditure required for education. She motivated the pupils to work hard and concentrate on their studies in their respective fields. She said students should strive to achieve their goals while also caring for their families and society.
She highlighted how to increase sponsor availability and what to do to earn additional scholarship opportunities.
She advised the Mukti TSS team to set up an online library where expensive books can be easily obtained by the students.
Students and parents expressed their heartiest thanks to Ms. Banerjee and Aiducate Now. The students assured her that they will work hard as responsible citizens and do their best to help others, especially underprivileged students, just as she and her organization have helped them with the sponsorship.