To ensure the role of paper bags in participants' economic empowerment & in environmental protection Mukti organized skill development training for MCDF members at Egra block of Purba Medinipur district. 1,500 MCDF members enrolled their names for the training.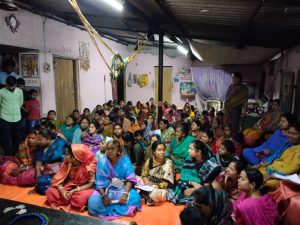 The aim & objectives of this training are to sensitize the people on the need to replace plastic bags with paper bags.
The training was divided into two parts. The first part started on 28th March 2023 and continued for a week. In the first part, the participants received hands-on training in using the equipment provided to them and making small newspaper packets.
The second part is planned to start in the last week of April. Participants will enhance their skills in making fancy paper garment bags, water bottle carriers, gift bags etc.
The products will be sold to the shopkeepers at a reasonable price.