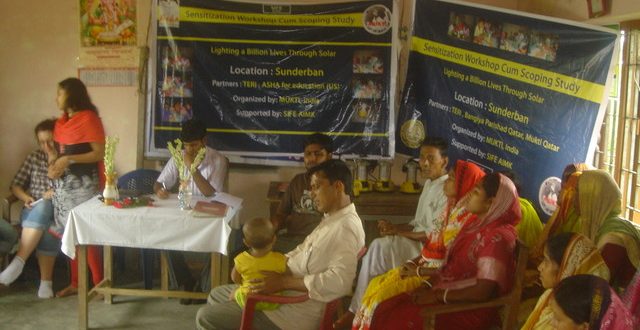 Sensitization Workshop and Scoping Study for Solar Project
The main aims of the sensitization workshop in this village was to spread the awareness about harmful effects of kerosene and kerosene lamps, demonstrate the solar lanterns and highlights the benefits of using solar technology among villagers of this area. The program was inaugurated by the program chief coordinator Koel Ghorai from MUKTI.
The Program Funding Partners is ASHA for Education (US), MUKTI Qatar, Bangiya Parishad Qatar and TERI. The Knowledge Partner is TERI. The Implementation Partner is MUKTI India and supported by SIFE AIMK.
The topics discussed with the villagers were the activities carried out by the villagers after sunset, other sources of light used in the villages, availability of kerosene, total expenditure of villagers for lighting source, problems faced due to kerosene use, charging mobiles and expenditure for doing the same.
It was found during the session that the villagers who had come from six (6) different villages had a monthly average expenditure of Rs. 200 to 350 per month for using kerosene at night to light their rooms. Still the luminosity of the kerosene lamp is not satisfactory. It also raises the concern of health hazards to children who use it to study at night.
Many villagers showed interest to set-up the unit at their home. MUKTI is already running similar projects in this and other part of Sunderban. The usability and effectiveness of the solar lanterns are making this very popular among the villagers and the demand for this type of project is increasing on everyday basis.
Mr Krishnapada Sasmal of TERI gave a brief about TERI and explained the best way of using lanterns and how it can be made a good business with win win situation for the community.