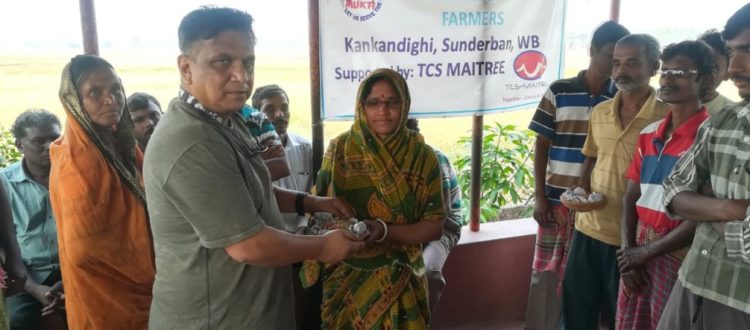 Seed Distribution Support at Kankandighi for Cyclone-affected Farmers
Apart from homes being destroyed by the 155km/h winds of Cyclone Bulbul, many agricultural lands were also completely butchered due to the torrential rainfall. Sunderban being an agriculture-based township, most residents are dependent on their crops, and thus farm land for their livelihood. With harvesting season right around the corner, losing their crops to the fury of Mother Nature, has had a devastating effect on their life.
In order to help these poor farmers Mukti has initiated a seed distribution program in the cyclone-affected villages of Sunderban. The farmers were supplied with a large amount of seeds to help them through this crisis. Since their crops have been destroyed in the storm, they will not be able to reap any profits from sale of crops this year. The seeds they have received will help them to cultivate crops for the next harvesting season, without having to worry about the financial costs involved in buying seeds.
Like these farmers, there are many other farmers who are in need of our support. With our limited funds, we have been able to reach as many of them as possible. With a little help from you, we will be able to provide more support to such distressed farmers. Please help us, help them!
Browse the photos click here!