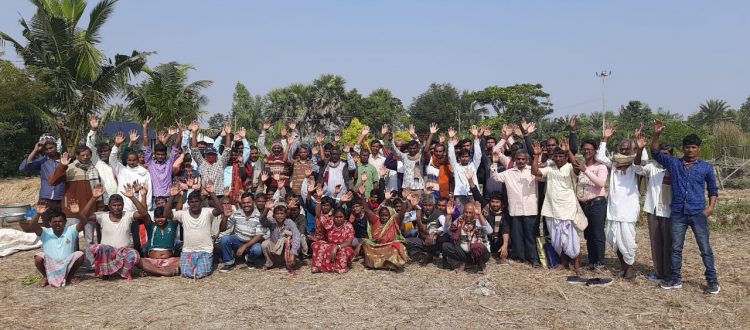 "Sankalpa Diwas" of Mukti
Mukti organised "Sankalpa Diwas" on 1st January, 2021 at Purba Sridharpur (Mukti village) under Nagendrapur Gram Panchayat. From this year Mukti started this event. The event was aimed to make the Mukti village beautiful, healthy, educated, and self-reliant and also to maintain mutual peace and harmony among the villagers.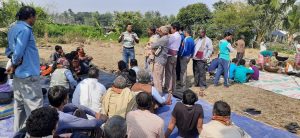 It was a sunny morning. The morning started with the kite flying competition of the children. Mukti organised a community picnic and 5700 villagers of "Mukti" village participated in the picnic.
After the picnic, the "Sankalpa Diwas" program started at 2 PM. Mukti invited all the members of Nagendrapur Gram Panchayat, 3 members of Mathurapur Block II and grandees of the locality. Along with them, Mukti Sathi (MCDF members), teachers of Mukti Study Center, Mukti Staffs and employees of Mukti Kolkata office were also invited.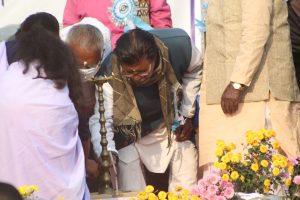 The President of Mukti Mr. Sankar Halder started the program by lightening the lamps. Students of Mukti Study Center welcomed the President and other guests. Mr. Sankar Halder explained the aim and objectives of "Sankalpa Diwas" in a very simple manner.He shared his view about how he wants to accelerate Purba Sridharpur as Model village in the eyes of the world.
The speech was followed by the cultural program. Mukti Support School students participated in the cultural program through dance, song and recitation.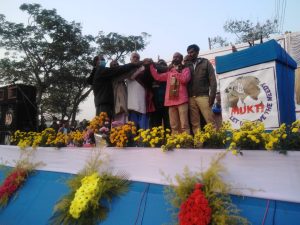 The pledge taking ceremony was started by Mukti volunteers and staffs. They took pledge on tree plantation and beautification, awareness of public health, abolition of illiteracy, child marriage and women trafficking, conservation of safe drinking water and environment, organic and healthy food, cleanliness of society, elimination of drugs, women self-reliance etc.
The President and the respective volunteers explained all the above said topics to the villagers and explained them how to implement the same.
The program ended with the prize distribution of the kite flying competition and "Danotsav". People came forward with their surplus materials to help those who are in need. No monetary help was offered.
This was a memorable day for the villagers of Purba Sridharpur. The phenomenal participation of the villagers made the venture of Mukti a successful event. Mukti will continue to perform this event every year.