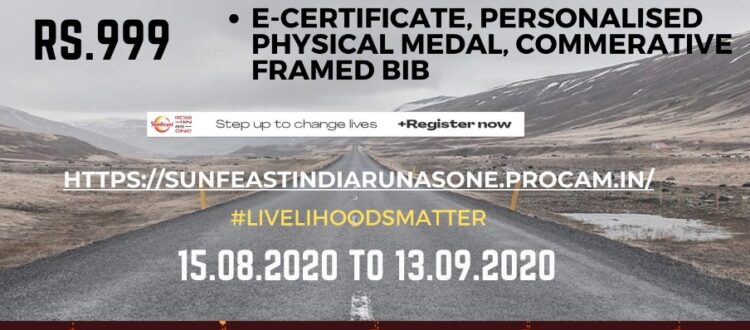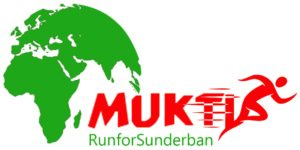 Rarely does an event come along that evokes a sentiment similar to the one Neil Armstrong conveyed when he became the first man on the Moon: "One small step for man, one giant leap for mankind."
'Sunfeast India Run as One' is one such – if only for the imagined possibilities of what it can achieve for India when the Covid-19 pandemic is raging through, taking with it not just lives but also livelihoods. MUKTI has partnered with Sunfeast and Give India to provide livelihood support to the migrants by organising Run for Sundarbans.
Billed as the country's largest virtual event organised by leading sports management company Procam International, it is a citizen's movement that everyone can join. Each participant's registration will contribute to supporting the informal sector – that makes up 80% of India's employed – to start earning a living wage again.
No one has been able to steel themselves against the heart-breaking stories of hardship coming from migrant workers, daily wagers and other underprivileged communities who lost their sources of income when Coronavirus hit India. And now each one of us can do something about this.
SIRAO/ Run for Sundarbans begins on August 15.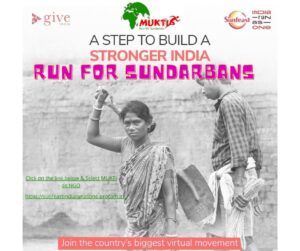 You can run, walk, jog, climb – just as long as you move – in the comfort of your home or outside, and clock up as many kilometres as you can in 30 days till September 13. United in our purpose to get India moving again, together the collective target is to cover the distance between Kashmir and Kanyakumari 74 times in the 74th year of India's independence.
Game? Just by registering (minimum ₹99) you will be contributing, as 25% of the fee will go towards rebuilding lives and livelihoods. That's why: one small step by you, can be a giant leap for India. Just do it!

 Let'sRun for Sundarbans with a small contribution of Rs. 99/-. Let's participate in the virtual run jointly organized by MUKTI in proud partnership with Sunfeast India Run As One and GiveIndia, towards the cause of restarting livelihoods.Don't forget to select MUKTI as a NGO, so that 25% of the contribution will directly reaches to the migrant labourer of Sundarbans. By registering with minimum ₹99 you can change the life of one migrant for a day.
You can directly contribute for the cause, in case you don't want to participate in the virtual marathon.
We need your support. This time Let's Run for the social cause.
To be noted: –
Run start from 15th August 2020 to 13th September 2020
Minimum distance for a day is 100 metre, there is no maximum distance.
You can pledge any number of distance.
You can select any state from the drop-down list
It's a virtual Run, thus use of fitness app is highly recommended, however one can also enter the distance manually. Google Fit is the most recommended App, one can download other fitness app as well.
25% of the registration fee will directly go to the NGO selected by you while submitting the form.
There are 3 different categories for registration, Rs. 99/- Rs.499/- Rs. 999/-
The registration will close on 11th of September 2020
You can also motivate your corporates to register your organization, the last date for corporate registration is 06th September 2020.
If you want to know, where MUKTI will utilise this link then please visit the link mentioned below
https://sunfeastindiarunasone.giveindia.org/nonprofi…/mukti/
For any query/ clarification please visit the below link
https://sunfeastindiarunasone.procam.in/faq
Please select MUKTI as a NGO while registering for the cause.