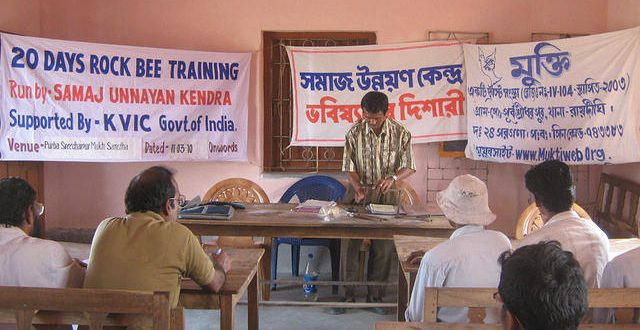 Rock Honeybee Project Training – 20 Days Workshop
Mukti, in association with Zilla Panchayat, Samaj Unnayan Kendra and KVIC ie Khadi Village Industrial , organized a 20 days workshop on honey bee farming followed by an expo of honey products at Nagendrapur, Damkal & Purbasridharpur of Sunderban Delta. The work shop has started from 11th March 2010 & will be continued for 20days. 25 nos of villagers are attending this workshop & it is been conducted by trainers of KVIC. Every day the workshop is been holding for 3 and 1/2 hrs ie from 12pm to 3.30pm.
Speaking after inaugurating the workshop, KVIC in charge said that apart from agriculture small industrial job should be an alternative source of employment besides Agriculture. We should inculcate interest in people in taking up small scale industry as an occupation.
Honey is always in demand as it forms the part of ayurvedic medicine. It helps in reducing weight besides giving enormous other health benefits. Honey bee cultivation is an alternative variety of farming that can yield profit when worked out in a systematic manner.
In the training the people who are attending this programme are becoming aware/trained about the production process, ie :
1. Equipment requirements keeping for honey bee
2. Species of honey bee
3. Establishment of hives
4. Establishing a bee colony
5. Management of colonies
6. Harvesting of honey
Bee keeping is an agro based enterprise, which farmers can take up for additional income generation.
Honey bees convert nectar of flowers into honey and store them in the combs of the hive.
Collection of honey from the forests has been in existence for a long time. The growing market potential for honey and its products has resulted in bee keeping emerging as a viable enterprise. Honey and wax are the two economically important products of bee keeping.