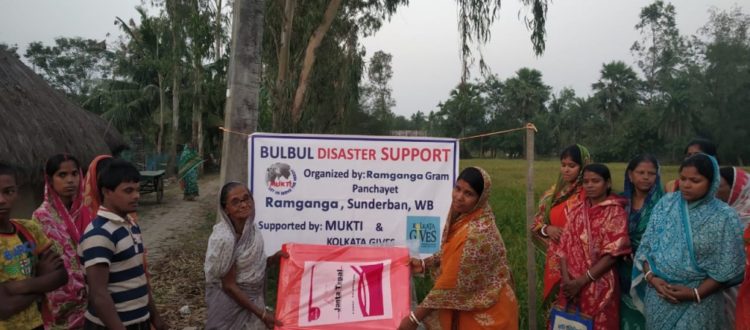 Relief Work in Ramganga in collaboration with Kolkata Gives Foundation
Cyclone Bulbul might have visited Sunderban only for one night but the amount of destruction as a result of this storm will have its effect for many days to come. Hundreds of families have lost their homes and livelihood to these devastating winds and rain. For an agro-based township like Sunderban, loosing harvest and livestock, is an irreplaceable loss. Many families are still without proper shelter and at times, without a proper meal.
In these troubling times, Mukti has stepped forward to ease the pain of such families by providing them with food and basic everyday commodities. Kolkata Gives Foundation has very kindly supported the cause and donated towards helping these cyclone-affected areas. With their help we have been able to contribute towards the welfare of nearly 600 families from over 40 villages.
Among the affected village, Ramganaga had a large figure of over 36 families who were left shelter less and without adequate means of a proper meal. Based on their needs the members of these families were provided with 10 tarpaulins, 4 mosquito nets and 10 thick woollen blankets. They were also provided with ample amount of rice, lentils, vegetables and other basics for cooking a standard meal.
We are trying our best to extend our full support to these distressed families, but our means are limited. There are still many families who need support to get back on their feet. We would be grateful if you could lend us your support and spread the word. Please come together to help us, help them!
Donate Now!
Browse the photos Click Here