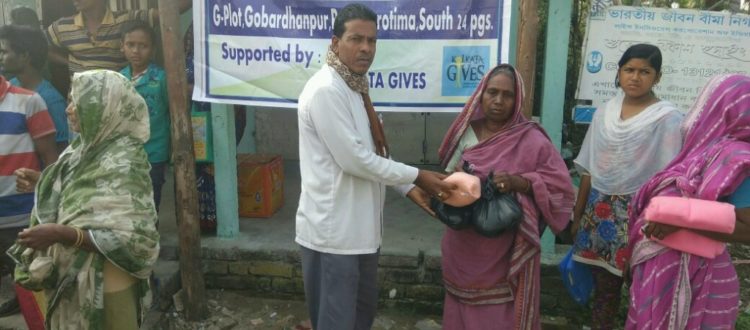 Relief Work in G-Plot in Collaboration with Kolkata Gives Foundation
Mukti continues to provide necessary articles of everyday use and food supplies to the families affected by Cyclone Bulbul. The whole township of Sunderban is still recuperating from the calamity that passed over them on 10th November – Cyclone Bulbul. Kolkata Gives Foundation has very kindly supported Mukti's efforts to help these villagers in distress and pledged to help nearly 600 families from different villages.
Nearly 205 residents of G-Plot were so severly affected by the storm that they were completely dependent on the utilities, including food items provided by Mukti. They were provided with woollen blankets and mosquito nets to help them survive the winter nights. Since some of the families are still without a proper house, they were given tarpaulins to help them create a make shift shed for themselves.
Mukti also provided these families with grains, lentils and raw materials to help them provide meals to their families. Children are being provided with books and other materials that will help them to continue their education without any problem.
But we are yet a long way to go – there are so many families still fighting to survive in such harsh conditions. Please come forward and help us, help them!
Donate Now!
Browse the photos here.