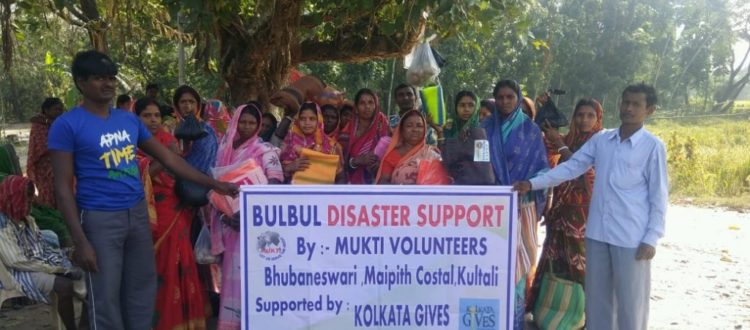 Relief Work in Bhuwaneshwari in Collaboration with Kolkata Gives Foundation
Mukti continues to provide necessary articles of everyday use and food supplies to the families affected by Cyclone Bulbul. The whole township of Sunderban is still recuperating from the calamity that passed over them on 10th November – Cyclone Bulbul. Kolkata Gives Foundation has very kindly supported Mukti's efforts to help these villagers in distress and pledged to help nearly 600 families from different villages.
Bhuwaneshwari was one of most affected areas in Sunderban – with a large number of families losing their homes as well as livelihood. There are a large number of families living without a roof over their heads. Mukti was able to provide utilities to 35 families from this village in Kultali block.
With winter around the corner, many children and elderly people are falling prey to cough and cold due to the lack of proper protection from the cold. Mukti provided the families with woollen blankets to keep them warm during the night. To keep the families safe from mosquitoes that are breeding in the stagnant waters that have flooded the houses, we also provided them with 16 mosquito nets. 30 families were provided with tarpaulins to keep them covered.
Along with this, they were also provided with food supplies like grains, lentils and vegetables. But there are still many families in need of such support. We would be grateful if you could come forward and support us in our cause!
Donate Now!
Browse the photos click here!