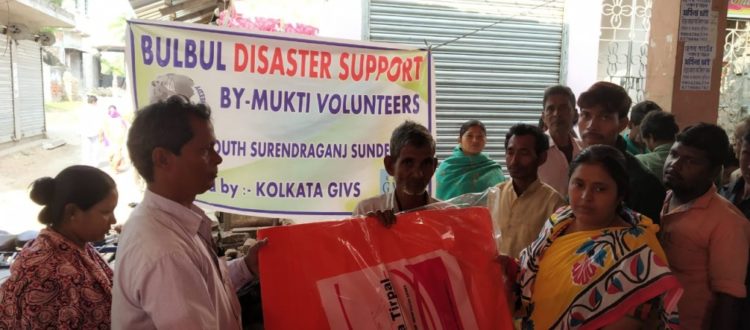 Relief Work at North and South Surenderganj In Collaboration with Kolkata Gives Foundation
Relief work has been going on at full swing at the different villages of Sunderban post Cyclone Bulbul. Even after a month has passed, there are many villagers who are shelter less and living without two proper meals a day. Many of them are dependent of Mukti's support.
As we continue with the relief work, with support from Kolkata Gives Foundation, we are able to help more and more villagers from the cyclone-affected Sunderbans. Surenderganj is situated in the interiors of Sunderban, away from most developed towns. Due to this many residents were unable to get access to aid post Cyclone Bulbul and were dependent on Mukti for some relief.
Siting the problems faced by these villagers, Mukti sent in food items and daily commodities to the families in need. There were a lot of elderly people who needed something to keep them safe from the chilling winds of winter. They were provided with tarpaulins and woollen blankets. Many of the families needed food commodities to help them provide meals for their families. Mukti volunteers provided them with grains, lentils, raw vegetables and utensils to help them cook.
But we are still a long way to go. Any support from your end will help us help many such people in need.
Donate Now!
Browse the photos here!