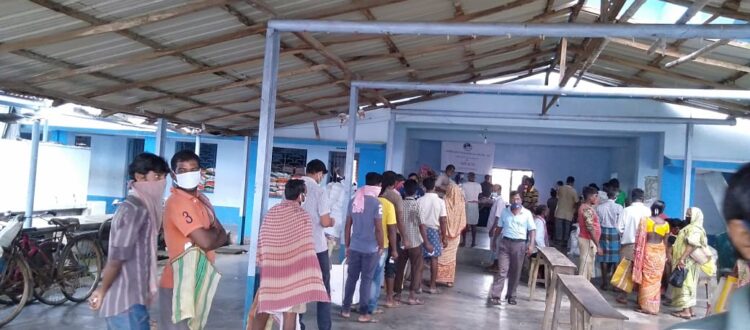 Relief through Dry Ration; Initiatives of Mukti for Covid -19 and Amphan Impacted Underprivileged of Nagendrapur and Kankandighi Blocks
Disaster is like as an event in which a society or a community undergoes acute deprivation of food and other basic necessities due to natural calamities to such an extent that the normal function of the society or the community is disrupted and that it cannot subsist without outside intervention.
Mukti volunteers with their full strength and enthusiasm are serving the vulnerable of Covid-19 and Amphan since March, 20. Mukti in response of the unfortunates has set a number of activities implemented after the impact of Covid-19 and Amphan in order to assess the needs, reduce the suffering, limit the spread and the consequences of the disaster, open the way to rehabilitation.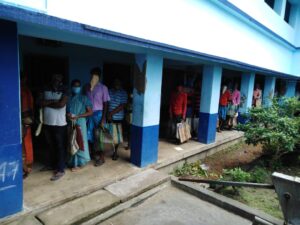 Mukti with "Rural Health Care Foundation" has organized dry ration distribution program mainly for the people who work in the informal sector such as daily wage earners, street vendors, farm labourers, etc. Mukti has selected Nagendrapur and Kankandighi Gram Panchayat for the distribution. From July 31st to August 18th Mukti has served 16,000 villagers among which 3,000 are of Mukti SHG members living in these two Gram Panchayats. The grocery kit contains Rice-5 Kg, Daal- 1 kg, Oil- 500 Gram, Soybean- 500 Gram, Biscuits- 4 Packets were distributed to the villagers but also a separate package containing Rice – 5 Kg, Daal – 1 Kg, Oil- 500 Gram, Soybean- 500 Gram, Biscuits- 4 Packets, Salt- 1 Kg and Motor and chaana daal- 500 Gram, were distributed only for the Mukti SHG members.
While providing the relief Mukti volunteers have taken care of the safety of the beneficiaries also so that everyone follows the Government rule implemented for Covid-19 pandemic. Proper sanitization, use of mask and social distancing were maintained during the program.
Mukti is thankful to "Rural Health Care Foundation" who is not only serving the patients through medical camps but also helping to feed those who are in real need.
Mukti can do much more with your generous support through an online donation in this critical situation. You can make a big difference. Please join the movement to fight COVID-19 and the aftermath of Amphan to ensure no one is left behind.