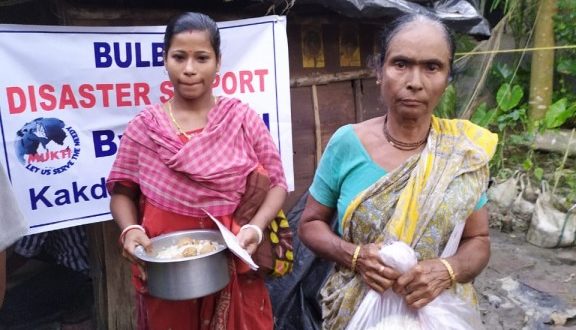 Relief and Rehabilitation in Kakdwip, Partharpratima and Sagar Island after Cyclone Bulbul
Despite the Bulbul cyclone warning and the preparedness to minimise the impact, the cyclone had created havoc in Sunderbans. Heavy rain and high-velocity winds triggered by the cyclone caused damage to many homes, uprooting of trees falling on houses and livestock shelters, blocking of roads, broken power lines and devastation of agricultural lands.
Among the many villages, Mukti continues to support relief work in the Kakdwip Block which remains as one of the most affected.
In Sagar Block, almost 100 families have been provided tarpaulins, blankets and dry foods in Light House, Banglabazar, Botkhali and Sumantinagar areas. People in these areas are lacking safe shelter. Since winter season is arriving, people are struggling to get shelter and blankets. Children and elderly are mostly affected.
The situation is same in the Ramkrishna and Haripur Gram Panchayats. Around 30 and 80 families in each GP have been extended Tarpaulins, dry food and blankets for immediate support. The relief work will be continued by Mukti for the other families who are still in need. Please support this cause by donating for the poor and affected people.
Mukti volunteers including Mukti president Sankar Halder visited the core affected area right after the cyclone to assess the damage and what support is required.
After detailed analysis and observation it has been found that Beetle cultivation and Crops were majorly damaged along with hundreds of houses and trees. Pond water is needed to be cleaned as soon as possible before outbreak of diseases as the uprooted trees, leaves into ponds are rotting. As result of this water pollution fishes are dying as many of the locals having pisciculture as one of major livelihood means in this area. Medical support and health camps are required to ensure locals get sufficient medical supports now.
We urge for your help. If you wish to donate, please visit the link:
Donate Now!
Check out the Photo Gallery