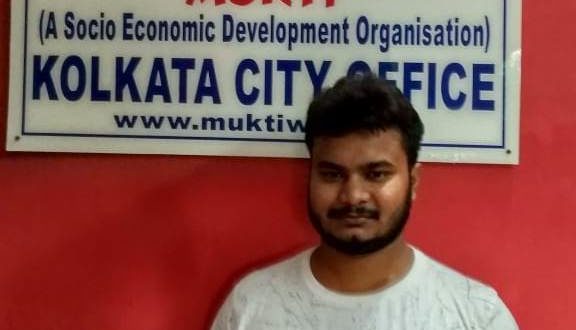 Read to get Inspired- How Bishal Mondal made it as an Alumni of Mukti's Talented Student Sponsorship Programme of the year 2019
Bishal , a resident of Siliguri City in the district of 24 Paraganas of West Bengal is the eldest son of his family. His father, Kamal Mondal is a motor mechanic under a Motor Garage and mother, Smriti Mondal is a housewife. His family consists of 5 members of which one of the members is studying in standard 9 and another one is in standard 12.
In the year 2015, Bishal appeared in WBJEE Entrance Examination and got admission in B.Tech course in the department of Mechanical Engineering. Meanwhile he came to know about the Talented Student Sponsorship Programme of Mukti from one of his seniors in the college. After interview process, fortunately he got selected by Mr. Krish Dey on behalf of JU Alumni Association Sydney Chapter for sponsorship. Mr. Dey supported him for 4 years till his course completion. With the financial support, Bishal completed his course successfully.
Currently Bishal has successfully managed to get a job offering through college campus interview in the month of January, 2019 at Air Product & Chemicals (APC) Company situated in Pune in the post of Graduate Engineer Trainee (GET).For the first one & half year he will work here as a trainee and later will be appointed as senior Engineer.
Bishal plans to continue his studies further, but now all he wishes to take up the job to make his family's life comfortable. Bishal is grateful to Mr. Krish Dey without whose support he would not have been at the place where he is standing now.
Mukti is very proud to see Bishal's dedication and perseverance. We wish Bishal good luck for his future and pray that he accomplishes his dreams successfully. Mukti will always remain by his side to support and motivate him through all possible means