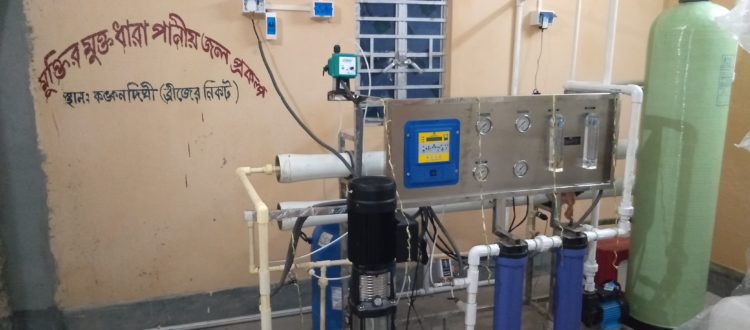 Pure water for the Sundarban villagers
At present, more than 95% of all chronic disease is caused by food choice, toxic food ingredients, nutritional deficiencies, lack of physical exercise and drinking impure water in Sunderban. Thus, keeping health in mind Mukti has taken a step to supply clean & pure water to the villagers.
On 11th November 2018 Mukti inaugurated "Mukto Dhara" water plant at Kankandighi near Raidighi bridge in Sundarban, West Bengal. Capacity is to produce 2000 litre of RO, UV and ozonized pure water. The objective of the project is to provide filtered water to the villagers at an affordable rate. Only 50 paisa per litre. Therefore, the villagers can easily afford to get better quality of water. Mukti SHG members are engaged in operations with this project. Thus,10 to15 villagers got a job.
150 villagers with maximum number of women attended the inauguration programme. The chief guests were member of Zila parishad Mr. Alok Jaldata, social worker like Mr.Satya Ranjan Gayen, Mr.Chitta Mandal, & Mukti President Sri Sankar Halder. Speeches were given by our guests on the ill effects of drinking impure water and stressed on importance of drinking filtered water. Villagers were given a clear picture of good and bad water and what diseases can be caused for taking non-purified water. Villagers were motivated to drink the best water. The programme got over with the hope of a healthy village in the future.