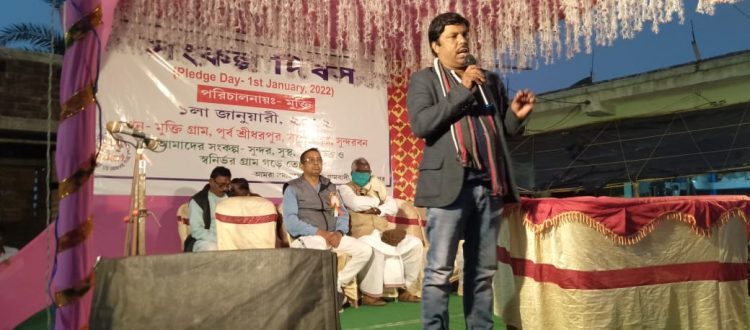 President's Speech on the Occasion of "Sankalpa Diwas", 2022
The main program of "Sankalpa Diwas" ended with the valuable speech of Mr. Sankar Halder, the Founder-President of Mukti which invigorated the audience with charm and vigor.
He began his speech by acknowledging the audience, love and blessings to the younger people, greetings to the peers and paying his respects to the elders.
He said that it is his great pleasure to celebrate the "Sankal Diwas" again with all present here. He portrayed the image of Mukti in the right way in front of the audience by saying that Mukti is a non-political and non-governmental organization. Mukti does not work with the fund of the Government. Mukti helps distressed people with the support of other organizations. The projects that Mukti is leading are basically incubation-type of projects. If the Government or the other NGOs want to move these projects forward, Mukti will help them. He has corrected the misconceptions of many people in the village.
Explaining the importance of "Sankalpa Diwas", he said that – everyone should take Sankalpa (Pledge) for their own good and improvement. The path of overall development is hidden in the physical and mental development of oneself.
While speaking over Model village he said that Model villages do not mean only spectacular villages. The people there must be good too. We have to try to save our environment, we have to build harmony with everyone, we have to forget jealousy and stand by each other in danger, only then do we have to build the image of an ideal village.
Mr. Haldar called upon the students and the professionals to return to the village those who are out of the village for study or livelihood. From outsiders, those who have grown up in the village will be able to understand the real problems of the village and solve problems accordingly with intelligence and smartness. He told them to come to the village on this special day of the year and join the ceremony. The joy of returning home to the family on the first day of the year is immense.
At the end of his speech, all the villagers greeted him with loud applause. Their behavior and joy were evidence that how happy were they to be members of the Mukti family.