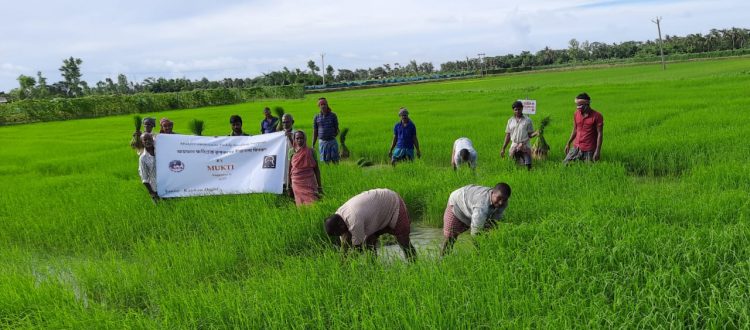 Organic Salt Tolerant Paddy Cultivation by Mukti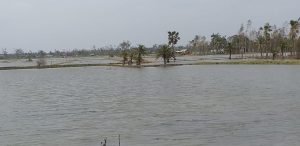 Amid a huge trail of devastation, cyclone Amphan has also severely damaged the Rabi crop Paddy in Sunderban. Paddy is the primary crop of this area and is widely cultivated. The cyclone led to water logging in the farm with ripened paddy and as the crop was harvest-ready, it has been completely destroyed. The saline water which flushed through the embankments flooded the agricultural lands and turned it unfit to cultivate for the years to come.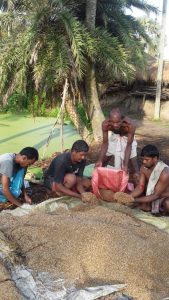 To support those unfortunate farmers, Mukti in association with "AID" and "OAK" Foundation arranged to cultivate a specific type of organic paddy on 950 Bigha of farming land where paddy can grow in saline water also. Mukti bought some of the seeds from Hashkhali, Nadia and some from local area. Seeds of Kalabhat (20 kg), Hamai (200 Kg), Balurupi (20 Kg.), Keralasundari (200 Kg), JP 140 (50 Kg), Pokharabora (20 Kg), Radhatilak (20 Kg), Jhumpuri (20 Kg), Aganibora(20 Kg), Kalomota (120 Kg) and Dudheswar (1215 Kg) were collected for farming.
After collecting the seeds, Mukti farmers cultivated those paddy saplings and distributed them to the farmers who shown their interest in farming this type of paddy.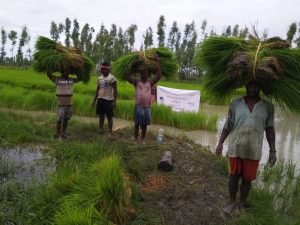 The distribution took place to the below mentioned villages:
Village
Gram

 Panchayat

Block
Number of Beneficiaries

Number of Paddy Bunches

Bhubaneswari, Halder Gheri

Bhubaneswari
Kultali
74

4956

Uttar Kankandighi, Dakshin kankandihgi, Purba Jata, paschim Jata,Dakter Gheri, Hatuya Gheri, Moktar Gheri

Kankandighi
Mathurapur II
54

5773

Purba Sridharpur, Nagendrapur,

Baradanagar, Damkal

Nagendrapur
Mathurapur II
35
4684

Shankar Gheri, Kumrapara, Bamuner Gheri

Kumrapara

Mathurapur II
10

737

Kuyemuri, Surendranagar, Dakshin kashinagar,

Herembogopalpur

Herembogopalpur
Pathar Pratima
52

5345

21 Villages

4 GPs
3 Blocks
225

21495
The initiative of Mukti of harvesting organic paddy is gradually increasing the interest of the farmers. As this paddy has been harvested organically, without any chemical, it has produced healthy rice. The fertilizers, pesticides etc. are obtained from plant and animal products.
A personal interview of one of the Mukti organic paddy farmer and non organic paddy farmer has revealed the fact that the special type of salt tolerant paddy has outgrown the production of the farmer who has used chemical fertilizers and also pesticides.
The project of Mukti has come out with a grand success and it got attention from all people around that area. Farmers of the said villages and more from other areas are willing to farm this type of salt tolerant paddy.