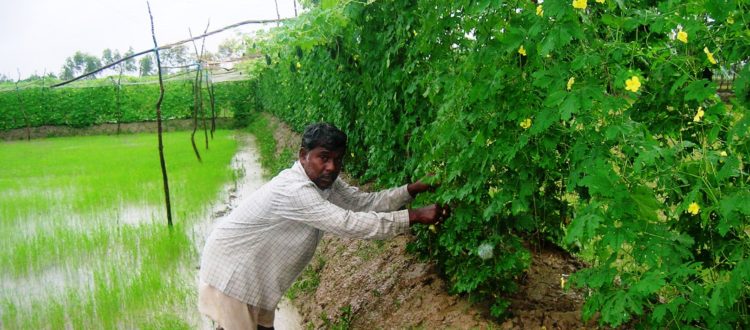 Organic Farming (SAM) Opens the New Door for Rakhal Koyal
Rakhal Koyal, Village and Post Office: PurbaSridharpur, Town: Raidighi, District: 24 South Parganas. Age: 51, Occupation: Farming, Family members: 9.
Human being's primary and very basic need is food. Since, primitive age until today, struggle for food continues. However, in the present day its face has changed. Impact of chemical fertilizers, pesticides and insecticides on recent food industry is very threatening. To rescue farmers from such a miserable scenario, MUKTI family have extended their helping hand and stood beside such farmers by promoting sustainable agriculture methods.
In year 2009 due to the devastating effects of cyclone Aila, even chemical fertilizers failed to produce viable crops, and then he approached MUKTI, seeking help. Rakhal primarily grows rice and alongside he also cultivates various other vegetables. Currently, upon applying organic farming techniques he is able to sustain his family through his farming occupation. Additionally, upon his own favorable experience with MUKTI, he encouraged his other farmer friends to imply Organic agricultural methods. Now, his monthly earning is about INR 4000. He owns 3 bighas of farming land. He is now spreading his success story of implying organic agriculture with others and firmly believes that organic agriculture is the future.
With the help of other NGO's MUKTI regularly conducts training organic farming techniques. This is MUKTI's aim to build a strong knowledge-base on organic farming and sustainable agriculture techniques among needy farmers of India. You can also be part of that by sponsoring such training. Visit our donation page for more details.