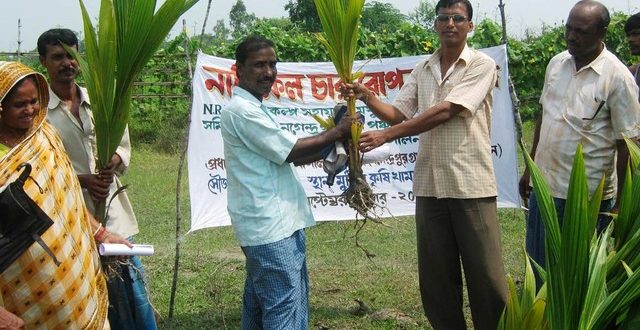 NaRKEL (Coconut ) Project in South 24 Parganas
Coconut, well known as Tree of Heavens, is fully exploited for manifold purposes in traditionally coconut growing countries like India. The fact that the importance of coconut is very well understood all over the country, could well be judged by the exalted position it occupies in its use in worship or in other auspicious functions.
The current emphasis is towards protecting the environment from various industrial wastes, to exploit the potential of by product utilization and recycling, to use coconut products and by products in protecting the nature etc. On exploring this possibility, admirable results can be obtained.
The Sundarban Delta is always known as cyclone prone area. To create an improved eco-system in the region of Sundarban Delta, Mukti has been taking up the Coconut plantation programme. This effort is not only help improve the economical condition of the poor rural families significantly but also protect their lives and livelihood from the frequent cyclone /Aila sort of disaster.
Mukti is attempting to spread over this coconut planting programme under the MGNREGA (Mahatma Gandhi National Rural Employment Guarantee Act) in many other Blocks of South 24 Paraganas in collaboration with the West Bengal Government.
Mukti started coconut planting programme in the year 2008. Mukti in 2010 planted 234 coconut trees on the bank of the river and by the side of the existing brick road of the village. The trees grow in the nature as usual. Mukti distributed another 450 coconut plants through Panchayet with the involvement of Block Development officer, Mathurapur-II, Block, 24 Parganas South. The concept of this coconut programme is to maintain by the communities and people will be the owner of the project. Each plant will give Rs. 1,000 guaranteed income per year without any recurring expenditure. It will resist erosion of embankment of rivers and in directly the houses and property including live stocks of the villagers will be saved.