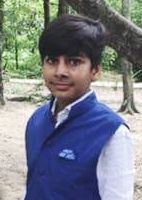 Naman is inspiring role model
Naman Dugar, a resident of Kathmandu, Nepal, of Indian origin is specially flying down to City of Joy for taking part in "Tata Steel Kolkata Marathon 2017" which is for the cause Mukti's socio economic development and upliftment of Sunderban Region of West Bengal.
He is only 16 years old and has participated in such fund raising events earlier also in Nepal. A copy of the appreciation letter by University of West London is also enclosed.
It's always a conviction of Naman to do his best for the society. He rendered his sleepless services to the victims of Nepal earthquake in 2015 for more than a month.
Naman is always pleased to support and donate from the savings of his pocket money to the needy apart from the funds he raises from his friends, knowns and relatives for specific causes.
Please help him to raise fund and fulfill his target
Support His Cause