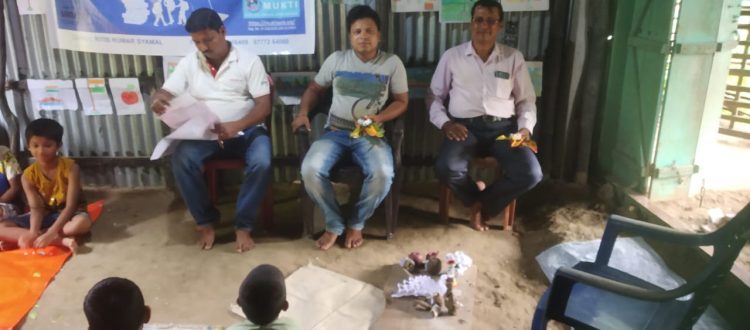 Mukti's Visit to Egra Kishalaya School, Purba Medinipur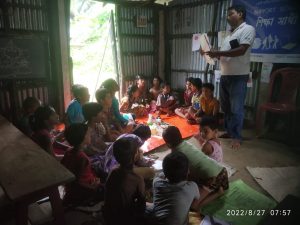 On his two days visit to Purba Medinipur, on the second day, 27th August 2022, Mr. Raghunath Bairagi visits the Mukti Kishalaya School at Egra in Purba Medinipur district. The main purpose of his visit is to know the progress of the children's education. The meeting has been organized at Sahara Anuska Kishalaya Centre with the students, teachers and parents. 22 students, 3 teachers and 4-5 parents of 2 Kishalaya schools attended the meeting.
Due to heavy rains, Egra area was hit by floods. Because of that students could not come to class for several days. He wants to know how much the Kishlaya schools have been damaged by the flood and whether the students have been able to resume regular classes. In order to improve the quality of education, he emphasized that teachers should implement value education in their courses. He encouraged teachers to teach students through playing. He also wants to know if the students are facing any difficulties. He invited teachers' opinions on what measures could be taken to enhance the student's knowledge by improving the education system. He has instructed the center coordinators to increase the number of schools by encouraging boys and girls from vulnerable families to study.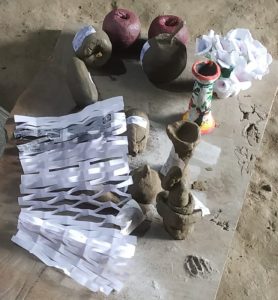 The students exhibited their creative works in front of him. They have made beautiful fruits (Apple, Guava and Banana) with soil, paper flower and vase. He appreciates the talents of the students.
Mukti has approved lime, phenyl and bleaching powder to disinfect the schools.