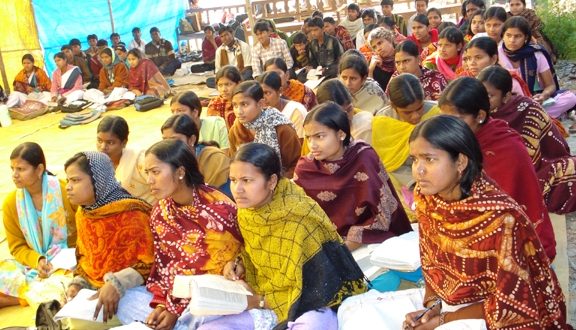 Mukti's Two Days Educational Camp for the Madhyamik Candidates of 2009
For the last two years Mukti is hosting a "Two Days Educational Camp" for the Madhyamik (Secondary Exam. under West Bengal Govt., India) candidates. This educational camp for the Madhyamik candidates of 2009 was started with an opening ceremony at 10:00 AM IST on 23rd January of 2009. Subirmal Guriya, the chief guest of the camp lit the candle of hope, best wishes and harmony. He explained the significance of 23rd January to the students attending the camp. Mr. Guriya offered the garland to the statue of Netaji Shubhas Chandra Bose to commemorate the great soul on his birthday. Nityananda Pal, the principal of Dumdum Hindu Academy School, presented a patriotic song for the nation to glorify the special mission of Mukti. It was our honor to have Diptiman Dutta, the veteran teacher of Hindu Academy School among us. Mr. Dutta delivered a brief speech. He is a role model for the entire nation for being an excellent mentor. The closing of the event was done by the chief guest, Subirmal Guriya.
Present and Past Teacher's Association of Dumdum Hindu Academy were present in this event – Nityananda Pal – Life Science, Basabi Chakrabarty – Physics, Prabir Chakrabarty – History, Paritosh Koyal – Bengali, Ronojit Banerjee – English, Diptiman Dutta – Maths and Arijit Ray – Mental Balance.
Participant Madhyamik Candidates were from the following schools:
Jota Nagendrapur High School, Nagendrapur Hemantokumari High School, Babujan Military High School, Jogendropur High School and IIMC Panchanan Siksha Niketan.
Total 144 students from local community attended this two days camp. During the break after each class, Mrityunjoy Pal sang Patriotic and 'Jibanmukhi' (songs talk about common people and their facts) songs to motivate and energize the attending students. Arijit Ray highlighted the aspects of mental balance and psychology to the students. He emphasized on the art of concentration and about developing and maintaining a clear focus that are needed to achieve their goals and excel in life.
Special Announcements:
1. The student scoring the highest in Mathematics will be felicitated next year by Diptiman Dutta at the educational camp.
2. Prabir Chakraborty stated that Mukti will offer updated monthly training through Mukti coaching center in Mathematics and English to the teachers of the educational camp.
Farewell:
All the teachers shared their thoughts about success and hurdles in their brief speech. Nityananda Pal and Mrityunjoy Pal presented a song together in the presence of teachers of Mukti's coaching center, Mukti's volunteers, residents of the village and well-wishers. The closure of the event was done by exchanging the good thoughts about their fellow participants.