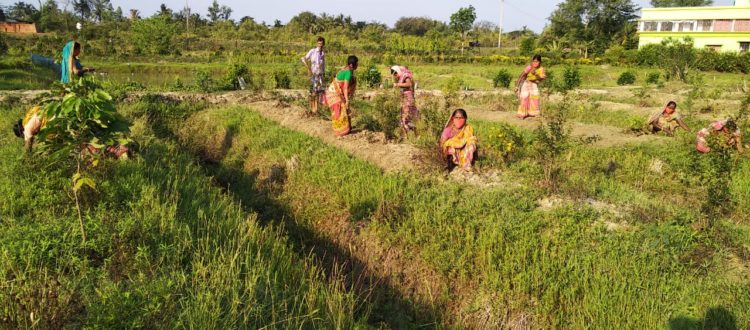 Mukti's "Food for Work" program to build a better future
The entire human race across the world is facing a global crisis in the form of Covid-19 Pandemic. It has affected each and every individual in some form or the other.  But the worst affected are the ones who leads their life with bare minimum livelihood. They need food and money.
To improve the situation, MUKTI has come up with their innovative model of "Food for Work". This model is primarily targeted for the women in and around Sunderban area. MUKTI started this program with 20 women. This journey has started from Purbasridharpur purbapara, purbasridharpur paschimpara, sarkarpara .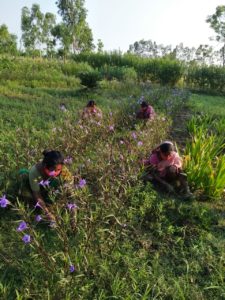 MUKTI has 3 nurseries around Sunderban and each nursery is spread across 2-3 acres of land. MUKTI has appointed these women in these 3 nurseries where they are responsible to plant Patabahar, Seasonal Flower and Fruits. They have planted around 200 types of seedlings. MUKTI has a large scale plantation program in which around 1 thousand (1,000) seedlings will be nurtured and distributed to the villagers. Post that these seedlings will be sent to market for sell.
The women are working four to four and half hours per day six days a week and they are earning food and cash for their efforts.
Added to that MUKTI with its self contribution are planting Shal, Akashmoni, Sishu, Ginger, Guava, Karamcha (Conkerberry),Kamranga (Star Fruit), Seasonal Flowers in government owned lands.
Considering the fact that now in this Covid 19 situation, social distancing, sanitization is very crucial, MUKTI has provide mask, soap and sanitizer to each of these women and also made them aware why it is important to follow all norms set by government.  To ensure that social distancing is strictly maintained, MUKTI has divided these 20 women in 2-3 groups so that at any point of time, there are not more than 6-7 women in the group.
This program is aimed at serving the larger interest of the society post lock down.
Post lock down, the plantation work is supposed to work exponentially to compensate the man hours, economic loss and to cover up the deficit during the lock down period.
For plantations, there will be a huge demand of seedlings. Anticipating the same Mukti is acting at present to have a better future.